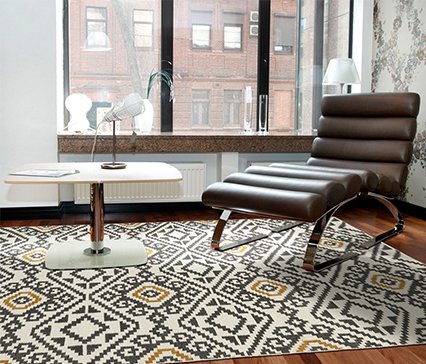 Decorating your home with square area rugs is a great way to add style and comfort to your space. They can help to define a space, and they work well with different styles of furniture. They can also be used to highlight certain pieces of furniture, like coffee tables.
But with so many sizes, colors, and patterns, how do you know which is suitable? Here are a few tips to help you select the perfect square area rug for your home:
Factors to Consider When Choosing a Square Area Rug
When it comes to finding the perfect square area rug, there are a few factors you'll need to take into account:
Size
The size of your square area rug depends on the space you're decorating. For smaller spaces, opt for a smaller rug to help keep the room from feeling too cramped. For larger rooms like the dining room or living room, choose a larger rug to help create a more cohesive look and feel.
Fiber Type
There are different fiber types you can choose from when selecting a square area rug, including natural fibers like cotton and wool, which is stain resistant, and power-loomed fibers like polyester and acrylic. The type of fiber you choose will largely depend on your preferences and the look you're trying to achieve.
KPSI and Pile Height
The KPSI and pile height of your square area rug can also impact the feel of your space. The higher the KPSI or pile height, the softer and plushier your rug. But keep in mind that a high-pile rug may not be ideal for spaces with lots of foot traffic.
Pattern and Color Palate
Opt for a colorful rug to inject some personality and style into your space, or choose a neutral rug if you prefer a more minimalistic look. Also, consider matching your rug to the color palette of your furniture and other decor elements, such as artwork or throw pillows.
Tips for Decorating with Square Area Rugs
If you're thinking about incorporating square area rugs into your décor, here are a few tips to keep in mind:
Square Rug Over Rectangle Rug
Laying square rugs over smaller, rectangular rugs is a great way to add visual interest and depth to your space. Not only does it help to create a more polished and professional look, but it also allows you to play around with different proportions and size combinations.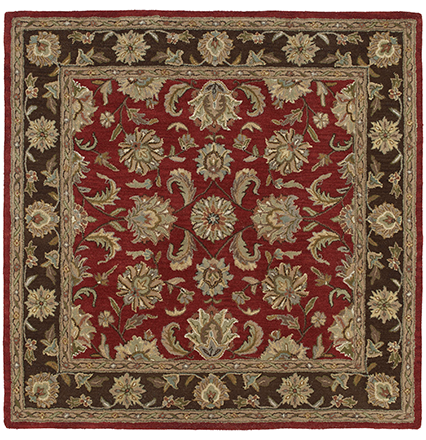 When choosing an area rug for your space, it's essential to consider the size and shape of the room. A smaller square rug like the Kaleen Tara Square 7807-57 Salsa Red Traditional Square Rug can anchor a larger rectangular rug or vice versa. The key is to ensure that the proportions are balanced so that one rug doesn't feel too heavy or cluttered compared to the other.
Square Rug Under a Round Table
Incorporating a square area rug under a round table over tile floors is an excellent way to create a polished look in your space. These rugs can help create interesting lines and shapes that draw people's attention in the room, creating a focal point and enhancing the overall aesthetic appeal of your space.
When shopping for a square rug for this type of layout, consider the shape and size of your table. You'll want to ensure enough space around the edge of the rug so that people can easily move their chairs without getting caught on any loose corners or edges.
Consider choosing a patterned rug with an eye-catching design like the Kaleen Tara Square TAJ02-22 Navy Floral Area Rug. Our square wool rugs, like the Kaleen Tara Square 7803-59 Sage Ivory Traditional Square Rug is also an excellent option for this layout, as it features bold patterns and vibrant, eye-catching colors.
Square Rug in an Entryway
A square area rug can also be a great choice for entryways. It can help to add a sophisticated look to the space, especially when paired with other elements like floor mats or wall art.
When choosing a square rug for your entryway, consider the size of your space. For example, opt for a larger square rug like the Kaleen Tara Square 7807-57 Salsa Red Traditional Square Rug if you have a larger entryway area, or choose a smaller rug if the space is on the more compact side.
Also, consider the other elements in your entryway when choosing a rug. For example, choose a rug with a bold or distinct pattern if you have lots of wall art or other statement pieces in the space. Or, if your entryway is more light and airy, consider choosing solid stripes or an animal print rug that creates an elegant and sophisticated look.
Square Rug in the Bedroom
A square area rug can significantly enhance the aesthetics of your bedroom. It can also provide extra comfort and warmth underfoot if used with a rug pad, especially during the colder months.
When choosing a square rug for your bedroom, consider how much space you want the rug to take up. For example, a larger square rug helps create a more lively look, while smaller rugs can be used to layer on top of other rugs or flooring materials.
You'll also want to think about the other decor elements in your bedroom and how they will coordinate with your rug. For example, a flatweave rug like the Kaleen Nomad NOM04-02 Black Flatweave Area Rug can help to attract attention when paired with more subdued statement pieces like a bed frame or wall art.
If you have lots of bright colors and patterns in your bedroom, a solid-colored rug can help to bring everything together and create a cohesive look.
Call Today
Rug Goddess is an online provider of high-quality rugs. We offer a virtually unlimited selection of options, including color, shape, size, and brands. If you prefer, we can assist you with any custom-designed rug you may desire.
We offer exceptional prices on any of our rugs, including Persian, Moroccan style, Jute, and any other type of rug you may desire.
Many of our rugs have sample sizes available if you want to try them before you buy. We offer free shipping within the continental United States on orders over $49 for deliveries.
Contact us today and let The Rug Goddess experts help you find and place an order for that perfect rug to complement your home or office decor.