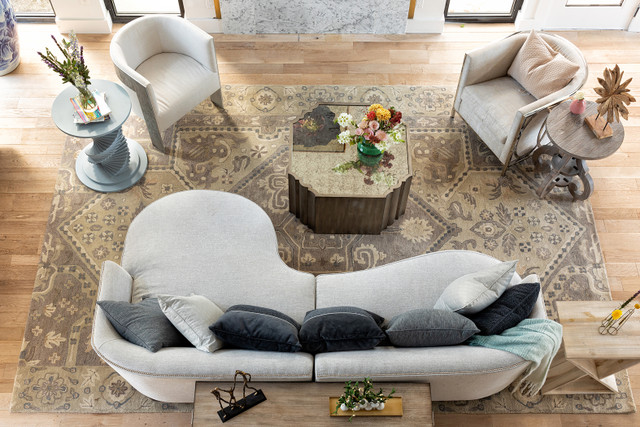 Rugs help bring warmth and style to your home, and different rug styles can help you set the tone and mood in a room. An Oriental rug adds a timelessness to your room with intricate patterns from centuries ago. A graphic rug can add an artistic, modern feel to elevate your furniture and décor. A traditional rug adds coziness and dimension to your room by adding a neutral backdrop to highlight your décor.
Traditional rugs can bring an additional level of style and versatility to your home. Learn more benefits of having a traditional rug in your living room and discover some of the best traditional rugs available at Rug Goddess.
Advantages of a Traditional Rug in Your Living Room
Many people place traditional rugs in living rooms because of their softness and durability. But there are many other benefits of a traditional rug:
Floor Protection
Traditional rugs are essential for many homes to protect flooring from damage. Scratches and scuffs happen in every house due to furniture legs, impacts from falling objects, and foot traffic. This damages tile and hardwood floors and wears down wall-to-wall carpets.
An area rug provides a barrier between the floor and everyday causes of wear and tear by absorbing impact and preventing scratches. A rug pad provides additional grip to prevent your area rug from sliding over the floor and improves soundproofing.
Enhanced Comfort
Traditional rugs are often made of natural materials such as wool or cotton, making them comfortable and practical. Cotton and wool rugs are soft to the touch and gentle on the feet, making them ideal for areas where people spend a lot of time barefoot or in socks.
They also often have a low to mid pile height or thickness that helps insulate against cold floors. As a result, traditional rugs provide enhanced comfort. This pile type makes them easy to clean and maintain; dust, dirt, and pet hair are less likely to become embedded in low pile carpet.
Style and Versatility
Traditional rugs are known for their intricate patterns and rich colors, making them popular in many décor styles. They can help create a cohesive look in any space, from classic to contemporary.
For example, a traditional rug with a floral pattern like the Kas Harbor 4206 Navy Manor Area Rug can add a touch of elegance to a formal living room with its monochromatic damask design. Or a more subdued carpet, such as the Couristan Marina Lillian 8974/0567 Oyster-Slate Blue Area Rug, can provide a sense of grounding in a more relaxed setting due to its neutral color palette.
Whether you want to make a statement or simply add a touch of color to your home, there is a traditional rug in a color palette, size, and pattern to suit your tastes.
Reduced Noise and Sound Vibration
A traditional rug in the living room or dining room can reduce noise and sound vibration from within the room. The weave and material of the rug determine how effective it is. A thick, multi-frayed rug is best for reducing ambient noise.
A rug also decreases the sound of toys, feet, pets, and furniture because thick carpets reduce the noise on hard floors by providing cushion and padding.
Helps Reduce Allergens
Rugs made from traditional materials are typically hypoallergenic and resistant to dust mites, mold, and other allergens. For example, natural fibers in jute rugs are breathable, which helps regulate the room's temperature and prevent moisture buildup.
This makes them an ideal choice for people who suffer from allergies or respiratory conditions such as asthma. Rugs made from synthetic fibers are not as effective at trapping allergens and can release them into the air, exacerbating conditions.
Anchors Living Room Furniture
Traditional rugs create a focal point that can help to anchor large furniture pieces in a room. The size of the carpet depends on the size of the room and the furniture placed on it. Choosing a big enough rug to cover most of a large section of floor space is best, but ensure you leave 6" to 8" bare floor on either side of the rug to ensure the room looks balanced.
The rug should be proportional to the furniture. This creates a sense of harmony and flow in the room.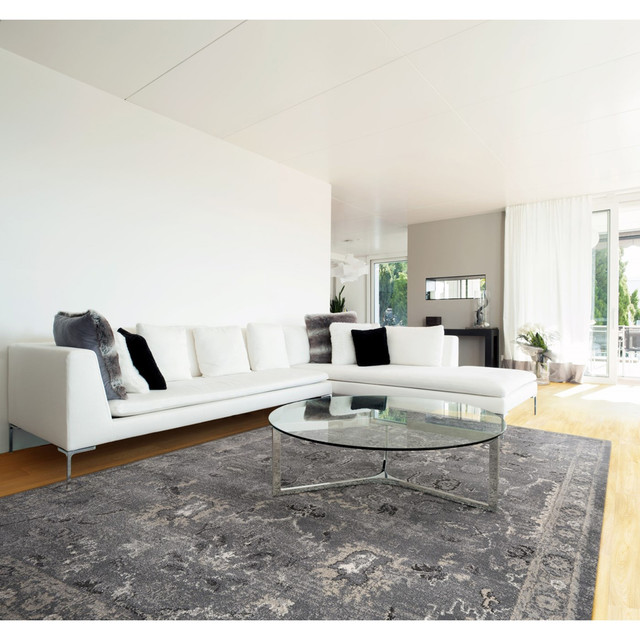 How to Choose the Right Traditional Rug for Your Living Room?
With so many styles and designs on the market, deciding which rug is suitable for your living room is difficult. Here are a few things to keep in mind when making your decision:
Room Size
Take into account the size of the room and the furniture you have in it. A large rug will anchor the space and make it feel more intimate, while a smaller rug defines the seating area and leaves ample space for walking around.
A bigger space can handle a larger rug, while a petite design is better for a smaller room. For example, a large 9'6" x 13' rug is ideal for a spacious open plan living room, while a 7'6" round rug is perfect under a dining table in a breakfast nook. By selecting the proper size and style of carpet, you can create a beautiful and inviting space that is both functional and stylish.
Room Style
Look at the color scheme and patterns that complement your existing room décor and what mood you want to create. Bold colors make a statement, while softer hues create a calming atmosphere.
Color also impacts how you perceive your room. Darker hues like black, navy, and burgundy can make a room feel smaller and cozier, while light shades and neutrals such as gray, white, or cream give the room a more spacious appearance.
Rug Material
Take a closer look at the rug's material and the quality of the construction. Traditional rugs are typically made from high-quality materials like wool or silk. Wool is durable and easy to clean, while silk is luxurious and has a more formal look. Choose one that suits the room in which you will place it.
High foot traffic areas like living rooms and kitchens should have rugs made from high-performance synthetics to polypropylene, nylon, polyester, or rugged natural fibers like wool. Rooms with minimal foot traffic, like home offices, bedrooms, or game rooms, can benefit from a traditional silk rug or a rug with luxurious accents like velvet.
Traditional Rugs at Rug Goddess
Traditional rugs are a popular choice for many homeowners due to their timeless aesthetic and ability to complement various design styles. At Rug Goddess, we carry a wide selection of traditional rugs in different colors, sizes, and patterns.
Whether you're looking for a luxurious handmade rug or a more budget-friendly power-loomed animal print runner rug, we have something to suit your needs.
Momeni Ghazni GZ-04 Red Traditional Area Rug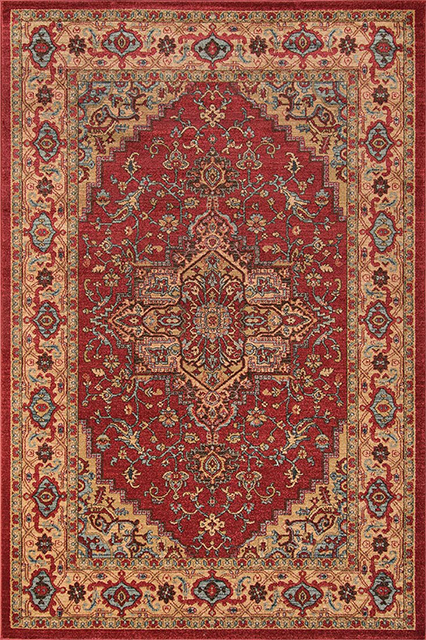 The Momeni Ghazni GZ-04 Red Traditional Area Rug is a beautiful addition to any home. This rug features a traditional design with a red background and detailed patterns in white and cream.
The Momeni Ghazni is made of 100% wool, making it durable and long-lasting. It is also hand-tufted for a high-quality finish. The rug is available in several different sizes, so you can choose the one that best fits your living room space.
Couristan Marina 8962/0120 Ibiza Oyster Area Rug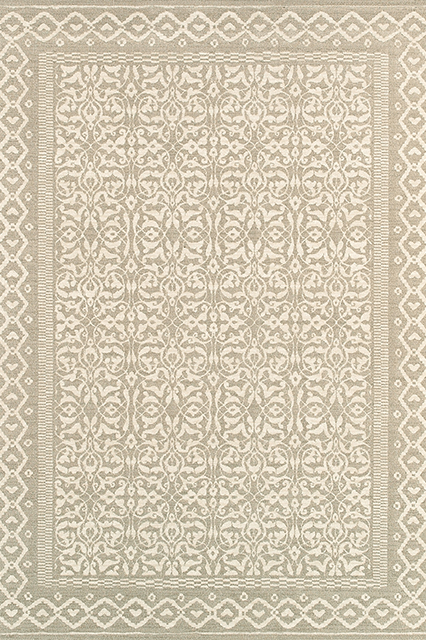 The Couristan Marina 8962/0120 Ibiza Oyster Area Rug is a beautiful and durable rug that is perfect for any home.
Made of 100% wool, it is incredibly soft and comfortable. The wool is dyed using a unique process that makes the colors vibrant and long-lasting. The rug's design is also intricate and detailed, with various patterns and colors. The Marina 8962/0120 Ibiza Oyster Area Rug will add style and sophistication to your living room.
Kaleen Weathered WTR05-78 Turquoise Area Rug
The Kaleen Weathered WTR05-78 Turquoise Area Rug is a high-quality rug designed to last. It is naturally stain-resistant and durable. The rug is also hand-tufted, meaning that each strand of wool is carefully placed using a flocking tool, resulting in a stunning, durable carpet.
The rug is also reversible so that you can enjoy two different looks in one. The Kaleen Weathered WTR05-78 Turquoise Area Rug is available in various sizes so that you can choose the perfect one for your space.
Kaleen Middleton MID10-22 Navy Area Rug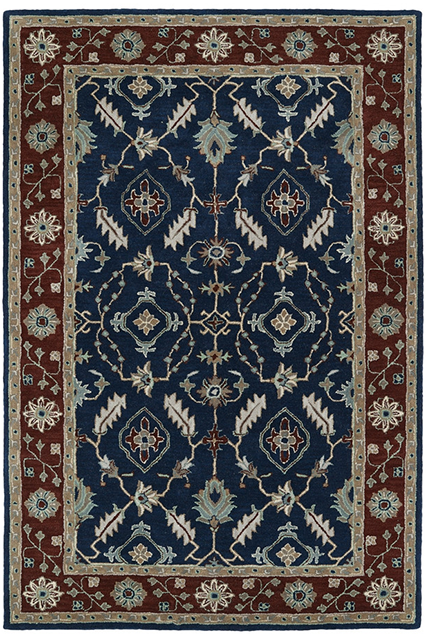 The Kaleen Middleton MID10-22 Navy Area Rug is a gorgeous and practical addition to your home. It is durable and low-maintenance. The hand-tufted construction ensures that the rug will retain its shape and colors over time. The rug is also reversible, so you can update your living room by turning the rug over.
The contemporary design features a geometric pattern in navy blue and gray shades. The rug is available in various sizes to find the perfect fit for your space. The Kaleen Middleton MID10-22 Navy Area Rug will add beauty and comfort to your home.
Kaleen Amaranta AMA02-05 Gold Area Rug
The Kaleen Amaranta AMA02-05 Gold Area Rug is a timeless accent piece. The luxurious pile is soft to the touch, and the intricate design adds a touch of elegance to any room. The rug is also reversible for added versatility and comes in various sizes to fit any space.
If you are looking for a new focal point or accent for your living room, the Kaleen Amaranta AMA02-05 Gold Area Rug is a perfect option.
How to Take Care of a Traditional Rug
Traditional rugs require special care to keep them looking their best. Some tips for taking care of a traditional rug:
Vacuum regularly using a soft brush attachment to remove dirt and dust that can accumulate over time.
Spot clean spills immediately using a mild soap and water solution. Blot the spill rather than scrub it to avoid damaging the fibers.
Protect your rug from direct sunlight to prevent fading. If possible, position it in a room that gets indirect sunlight.
These simple tips can help keep your traditional rug looking new and prolong its lifespan.
Call Today
Rug Goddess is an online provider of high-quality rugs. We offer a virtually unlimited selection of options, including color, shape, size, and brands. If you prefer, we can assist you with any custom-designed rug you may desire.
We offer exceptional prices on any of our rugs, including Persian, Moroccan style, Jute, and any other type of rug you may desire.
Many of our rugs have sample sizes available if you want to try them before you buy. We offer free shipping within the continental United States on orders over $49 for deliveries.
Contact us today and let The Rug Goddess experts help you find and place an order for that perfect rug to compliment your home or office décor.