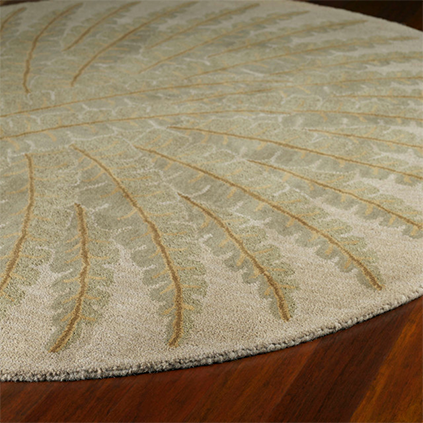 Area rugs can be a great way to add color and texture to a room and help define the space. Round rugs are a versatile interior decorating element that provides numerous possibilities for styling your space. However, to ensure your room looks cohesive, learn seven crucial dos and don'ts for styling your round rug.
DO: Plan Your Layout
When choosing a circular rug, it is essential to consider the size of the room and the furniture placement. To start, mark the floor where the circle rugs will be located with painter's tape. Then, mark inside the circle where you plan to place the furniture. This allows you to visualize the layout and easily make changes without physically moving any furniture.
Measure your space to ensure that the rugs are proportionate to the rooms. Ensure there is at least 6" to 8" of visible flooring around all the rug's edges. Otherwise, the rug can dominate the room and disrupt the visual flow of the space. Buying a round rug that reaches wall-to-wall also causes the edges to roll and damages both the rug backing and pile texture.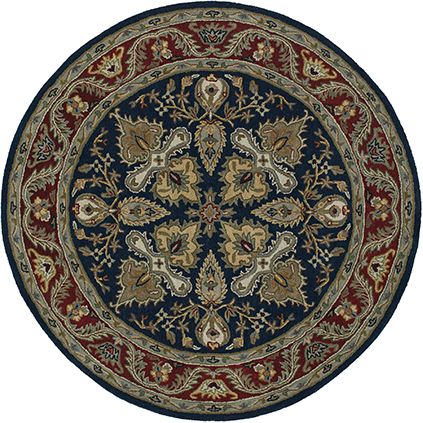 DO: Use a Round Rug as a Focal Point
Round rugs can be used to create a focal point or draw attention to a specific space in an open-plan area. When choosing a round rug, consider the colors and patterns in the room. For example, if the room has muted colors, choose a rug with a bolder pattern like the Kaleen Tara Rounds 7705-22 Navy Traditional Round Rug with its elegant blue and burgundy mandala-style pattern.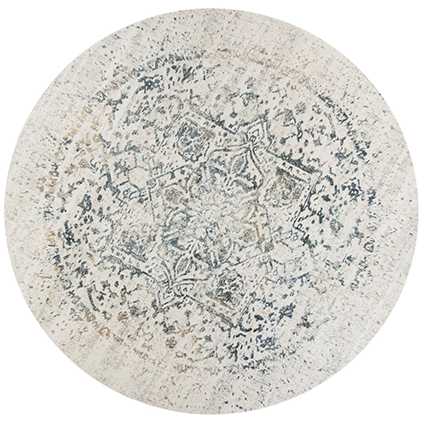 If the room has a lot of patterns, choose a neutral rug like the Wayside Heirloom RG70054 Gray Area Rug with its distressed vintage style and ivory-grey color scheme.
You can also use the texture of a round rug to create a focal point in an open concept living area. Layering traditional or Moroccan round rugs over jute rugs in your home can build layers of textures and increase the visual interest and warmth of the room.
DO: Align the Rug with Round Elements in the Room
Round rugs can help create a sense of harmony in a room, but only if placed correctly. If you are placing your round rug under a round table or circular lighting fixture, ensure that the table is completely centered to avoid asymmetry and create a sense of balance.
DO: Let Plenty of the Rug Show
Round rugs are an excellent way to add a touch of style to any room, but it's important to ensure plenty of the rug showing. Otherwise, the space can appear cluttered.
The general rule is that at least 18" of the rug should be shown on all sides. However, if you have a larger room, you may want to consider letting more of the rug show.
DON'T: Crowd Furniture Onto the Rug
Crowding numerous furniture pieces onto a round rug can prevent you from seeing the rug's pattern or texture and make the space feel visually cluttered. Too many furniture pieces on a rug can also cause damage by wearing down the fibers.
Be judicious about which furniture pieces you place on the rug and ensure they are proportional to the rug's size. For example, a 12' round rug is suitable for use in a living room with an average-sized 3-seater sofa, which typically measures between 72" and 96". However, a smaller 8' rug is ideal for a reading nook with a small armchair and a side table.
DON'T: Buy a Rug That's Too Small
One common mistake when buying rugs is getting a size that is too small for your living space. Interior designers suggest that the area rug should be large enough so that, at a minimum, all four legs of a piece of furniture, such as a coffee table or sofa, can sit on the rug comfortably. Ensure that, at a minimum, your round rug extends out past the coffee table and under the sofa's front two legs to avoid leaving too much negative space around the furniture.
DON'T: Limit Yourself to Round Furniture
Round rugs are a timeless choice for any home, but that doesn't mean you have to limit yourself to pairing them with round or circular-shaped furniture. Geometric, square, or organic-shaped furniture can offer an excellent contrast to a round rug to create a dynamic, open-plan space. The key is to choose pieces that complement the rug without overwhelming it.
Try placing a large round or oval Persian rug under a rectangular dining table in your dining room for an interesting twist on classic rectangular rug. Or add a small round rug to the center of your entryway to contrast the rectangular shapes of the front door and your console table.
Call Today
Rug Goddess is an online provider of high-quality rugs. We offer a virtually unlimited selection of options, including color, shape, size, and brands. If you prefer, we can assist you with any custom-designed rug you may desire.
We offer exceptional prices on any of our rugs, including Persian, Moroccan style, Jute, and any other type of rug you may desire.
Many of our rugs have sample sizes available if you want to try them before you buy. We offer free shipping within the continental United States on orders over $49 for deliveries.
Contact us today and let The Rug Goddess experts help you find and place an order for that perfect rug to complement your home or office decor.