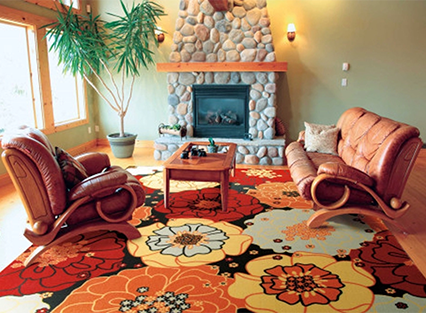 A floral area rug can be a beautiful and eye-catching addition to any room. However, if not carefully chosen, it can also look out of place and clash with your existing décor. By following a few suggestions, you can find the perfect floral area rug that blends with its surroundings and adds a touch of beauty and style to any room in your home.
Consider the Colors Already in the Room
When choosing a floral rug, it's essential to consider the colors already present in the room you will be placing your new rug. A floral rug with coordinating shades helps tie the room together and create a unified look. For example, if your room has primarily cool tones, you should also choose a rug with cool tones.
Pay particular attention to any large furniture or wall décor in the room. Choose a rug in a color or shade that will complement these elements without clashing. If you have light blue walls and a blue sofa, a light pink floral rug with hints of blue, like the Kas Sonesta 2039 Tan-Ivory Floral Splash Tropical Area Rug", would be a great choice.
You can also choose a rug with the same color or pattern as one of your existing pieces of furniture or wall décor. If you have a floral couch with pink and yellow flowers, you might choose a floral area rug in similar colors. This can help tie the look of different pieces together, creating a feeling of harmony in your room.
Choose a Neutral-Colored Floral Rug
Another tip for making a floral area rug blend in with your surroundings is choosing a more neutral color scheme. This will allow you to use it in a variety of different spaces without clashing or causing it to stick out too much.
One option for choosing a neutral-colored rug is to look for a floral pattern with colors like black, white, tan, or gray. These colors are versatile and can work well with various spaces. The Nourison Home & Garden RS014 Black Indoor Outdoor Area Rug is an excellent option for a black color. You could use this rug in a traditional living room paired with dark wood furniture or modern décor in your bedroom.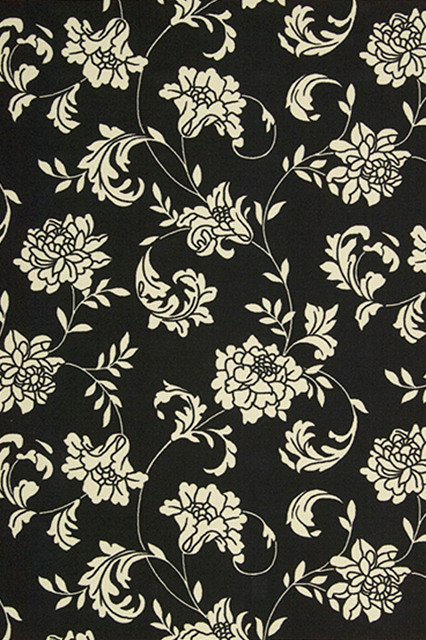 Or maybe choose a rug that features soft pastel tones. These neutral tones are subtle and will not clash with the other elements in your room. They are also versatile, so you can use them in different spaces if you often reorganize your home.
Avoid Mixing Clashing Patterns
One important tip to keep in mind when styling your rug is to avoid mixing clashing patterns. This will create a busy and visually overwhelming look, distracting or even making it difficult for you to enjoy spending time in the space.
To avoid clashing patterns, simply choose one pattern and stick with it. If you have a floral area rug with solid patterns like the Nourison Home and Garden RS021 Black Area Rug, choose solid pillows and furniture with similar colors. This will help create a pleasing overall look in the room without any patterns or colors clashing.
You can also opt for rugs and décor that feature simpler patterns. Floral prints, for example, can be stunning. But if you pair them with stripes or chevron patterns, the overall effect can be overwhelming and even unstylish. A better approach is to choose one pattern, in this case, a beautiful floral, and then select complementary colors to create a blended look.
Keep the Rest of Your Textiles Solid Colored
For styling your floral area rug, you can use solid-colored textiles throughout the rest of your room. This will help to create a clean and uniform look in the space and prevent any distracting patterns from getting in the way.
You can choose solid-colored fabrics for your furniture, including curtains and upholstery. Consider using solid-colored accessories like picture frames and table lamps to go with a floral rug with simple patterns like those in the Nourison Home & Garden RS022 Blue Indoor Outdoor Area Rug. Not only will this create a distinct look in your space, but it will also help to highlight the beautiful details of your rug.
You can also use textiles with simple patterns or textures. For example, you could choose pillows or a blanket that features a small geometric pattern, like stripes but keep the color scheme complementary. This helps create visual interest without clashing with the floral rug.
Place Floral Accents Around the Room
To further enhance the look of your floral rug and create a cohesive design throughout the room, consider placing floral accents around the space. If you have a rug with blooming flowers like in the Kas Catalina 768 Sage Magnolia Floral Area Rug, you might choose to display a vase of fresh white flowers on a side table or hang some beautiful wall art with a similar theme.
With these types of floral accents in the room, you can draw the eye to your rug and further blend your rug with its surroundings. You can also use plants as accents in the room. For example, you could add greenery in smaller planters on your windowsill or dresser or choose large potted plants for corners and empty spaces around the room.
Not only will this help balance the look of your rug, but it will also add a fresh and natural feel to your home. Apart from enhancing the look of your rug, adding floral accents can help create a more welcoming atmosphere in your space.
Pair With Scandi or Minimalist Décor
One way to ensure your floral rug blends with its surroundings while showing off its vibrant and beautiful pattern is to pair it with a more minimal design. To create a minimalist or Scandi-inspired look, choose furniture and accessories that are simple and streamlined for a clean and ultra-sleek aesthetic.
This can include clean-lined sofas, sleek wood side tables, and bold geometric accent pieces. By incorporating these elements into your space, you can create a more uniform and stylish look that will showcase the beauty of your floral outdoor rugs. Scandi decor is very on-trend and can help elevate the overall feel of your home.
Choose a gorgeous floral rug, like the Jaipur Blue BL65 Petal Pusher Floral Area Rug, to easily fit in with Scandi design and complement your overall decor while being an eye-catching statement piece that guests will love.
Call Today
Rug Goddess is an online provider of high-quality rugs. We offer a virtually unlimited selection of options, including color, shape, size, and brands. If you prefer, we can assist you with any custom-designed rug you may desire.
We offer exceptional prices on any of our rugs, including Persian, Moroccan style, Jute, and any other type of rug you may desire.
Many of our rugs have sample sizes available if you want to try them before you buy. We offer free shipping within the continental United States on orders over $49 for deliveries.
Contact us today and let The Rug Goddess experts help you find and place an order for that perfect rug to complement your home or office decor.