Momeni rugs are known for their quality, durability, and beauty. The company started by selling original Persian rugs from Iran to customers across the U.S. Today, they create their own rugs in various designs, fabrics, and constructions. A Momeni rug would be a great addition to any home, bringing unmatched class and style. Discover the things to know about Momeni rug before shopping for one of these renowned pieces.
The Origins of the Momeni Rug
The Momeni rug was born when Haji Momeni traveled to Texas and Oklahoma in the 1960s to visit his eldest son Ahmed, who was attending college. Originally from Iran, Momeni and his son would travel the U.S. from Texas to California and then to Washington, D.C., in a rented van filled with handmade rugs from Iran, selling them door to door and visiting rug shops along the way to learn about American rug designs and sales practices.
The Momeni company was formally established in 1975 and quickly became one of the largest rug importers in the U.S., with thousands of staff and hand-weavers around the world.
How Momeni Rugs Are Made
Momeni rugs are created by an in-house team of designers based on current trends while adding a twist to each design to make it quintessentially Momeni. Each design is hand-drawn, and the color palettes are specifically chosen to reflect the feel and style of the rug design.
Momeni rugs are made of a variety of fabrics, from traditional wool to synthetic fibers and even environmentally friendly materials like jute or bamboo. While Momeni prides themselves on being hand-made, they also offer machine-made options for a different look and design, giving their customers various fabric and construction options.
The Benefits of Buying a Handmade Rug Like Momeni
Momeni carpets are made from high-quality materials that age gracefully due to their handmade construction and will last generations, becoming an heirloom. Because each carpet is made by hand, no two are exactly alike. Your Momeni carpet will be a truly unique work of art.
Momeni is committed to sustainable practices, sourcing its wool from traditional herding farmers who do not overgraze their land. They also support local weavers and dyers, providing them with fair wages and working conditions.
Types of Momeni Rugs Available
Besides hand-tufted rugs, they also make hand-hooked, hand-knotted, hand-loomed, machine-made, flat-woven, hand-woven, and broadloom. Their two most popular styles are hand-tufted and hand-hooked constructions.
Hand-tufted rugs like the Momeni Lil Mo Hipster Surf Area Rug are a mixture of hand-made and machine-made. A person uses a mechanized tool to shoot pieces of wool through a canvas backing, following an outline of the rug's design on the canvas. Tufted rugs have a comfortable and luxurious feel. For even more comfort, or for areas where kids or pets typically play, consider adding a rug pad underneath.
Hand-hooked rugs, like the Momeni Tangier Southwest Area Rug, are similar to hand-tufted rugs, except they have a cut pile surface while hooked rugs have a loop pile surface. Hand-hooked rugs have a more blunt edge to the fabric.
How to Care for Your Momeni Rug
Momeni carpets are beautiful pieces that can add a touch of luxury to your living room or any room you choose to style. But like all carpets, especially hand-crafted ones, they require care and maintenance to keep them looking their best.
Here are some tips on how to care for your Momeni carpet:
Vacuum regularly. Vacuuming removes dirt and dust from the fibers and prevents matting. Momeni recommends vacuuming at least once a week. If your rug has a fringe, be careful not to vacuum the fringe as they may pull.
Spot clean spills immediately. If a spill occurs, use a damp paper towel to blot the stain. Do not scrub or drag the area. If the liquid was dark such as wine, soda, or coffee, use a damp towel with soap and water. Do not leave the rug to soak as hand-crafted rugs are prone to mildew.
Do not expose to sunlight. Exposure to sunlight can cause colors to fade.
Have it professionally cleaned. Have your Momeni carpet cleaned once or twice a year. This will remove deep-seated dirt and debris and will also help to extend the life of the rug.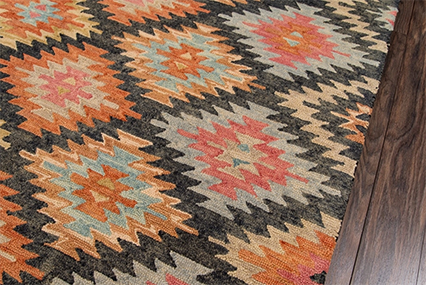 Call Today
Are you looking for the perfect Momeni carpet? You can find a wide selection of Momeni carpets online at Rug Goddess.
Rug Goddess is an online provider of high-quality rugs. We offer a virtually unlimited selection of options, including color, shape, size, and brands. If you prefer, we can assist you with any custom-designed rug you may desire.
We offer exceptional prices on any of our rugs, including Persian, Moroccan style, Jute, and any other type of rug you may desire.
Many of our rugs have sample sizes available if you want to try them before you buy. We offer free shipping within the continental United States on orders over $49 for deliveries.
Contact us today and let The Rug Goddess experts help you find and place an order for that perfect rug to complement your home or office decor.