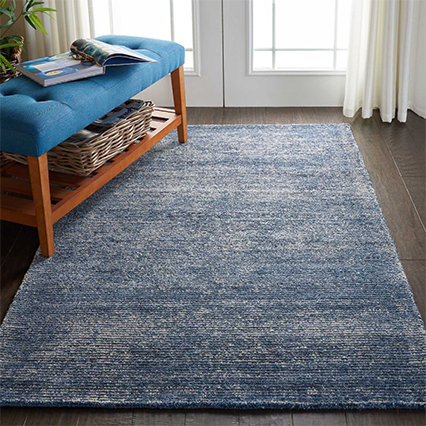 Transitional rugs are a type of rug that can help bridge the gap between two design styles. They are often characterized by simple, clean lines and neutral colors like blue. Blue is a popular color choice for transitional rugs, as it can be used to create a calming atmosphere while still providing visual interest.
Transitional rugs can be hand woven or machine woven/power loomed from a variety of materials, including wool, cotton, other natural fibers, and synthetic fibers like 100% polypropylene, and are available in a wide range of sizes and shapes, making them a versatile option for any space.
Whether you want to add a touch of elegance to your living room or add warmth to a space, transitional rugs can be an excellent choice for decorating your home.
Why Invest in a Transitional Area Rug?
A blue transitional area rug can be a unique and stylish addition to any home. Transitional style is designed to bridge the gap between traditional and contemporary styles, making these rugs a perfect choice for different types of decors.
Blue is a popular color for transitional rugs, as it can add a calm and relaxing feeling to a room. Blue rugs are also easy to match with other colors and are less likely to show stains, making them a flexible option for any decor scheme.
If you are looking for a rug that will add style and comfort to your home, consider investing in a blue transitional area rug.
Tips for Decorating with Blue Transitional Area Rugs
When decorating with a blue transitional area rug, there are a few key things to keep in mind:
Draw Inspiration from Your Room's Color Scheme
When choosing a rug, one crucial factor to consider is the color scheme of your room. For instance, if you want to create a dramatic contrast, choose a blue rug for an orange room. Or, if you're going for a more calming effect, choose a green or purple rug for a room with similar colors.
However, one thing to keep in mind is that the rug you choose should complement the overall style of your room. A transitional style rug like the Nourison Weston WES01 Agean Blue Bamboo/Jute Area Rug would be a perfect addition to any contemporary space. With its clean lines and sleek design, this type of rug can help to pull the whole room together.
So when shopping for a new rug or rug pads, keep the scheme of colors in mind. It'll help you narrow your choices and find the perfect rug for your space.
Balance Patterned and Solid Elements
To create a well-balanced room, it's essential to consider the existing patterns and colors in your space. For example, if you already have lots of patterns or vibrant colors in room furniture, a solid transitional blue rug like the Kaleen Lauderdale LDD01-17 Blue Area Rug can help anchor and ground the space.
Alternatively, if you want to add some life and interest to a neutral room, opting for a patterned transitional rug can be a great way to do so. Whether you're looking for a subtle or bold design, you have many options available in transitional area rugs to suit your needs and preferences.
Experiment with Shapes
Transitional rugs come in multiple shapes, including runners, squares, rounds, and rectangles. Each shape has its own unique rug features and can be used to create different looks in your home. Runner rugs are great for long, narrow spaces like hallways and entryways. They provide a touch of color and texture without overpowering the space.
Square rugs are versatile and can be used in several different rooms or even as outdoor rugs. They work well in small spaces or as accents in larger rooms. Round rugs are perfect for creating an inviting feel in any room. They're also great for defining seating areas like bar stools or anchoring furniture.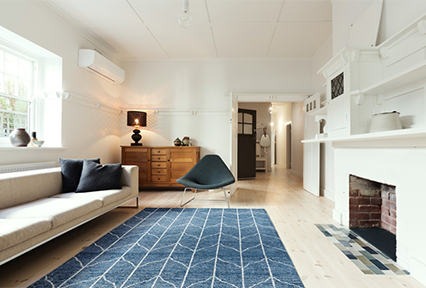 Rectangle rugs are the most popular shape, and a rectangular rug like the Kaleen Solitaire SOL05-10 Denim Blue Area Rug can be used in just about any space. They're perfect for everything from living rooms to bedrooms.
No matter what shape you choose, make sure it fits the scale of your space and complements your existing furniture. The right rug can make all the difference in pulling your room together and creating a cohesive look.
Layer Your Rugs
Layering rugs is a great way to add visual interest and texture to any room and give it a plush feel. It can help create a more cohesive look and tie different elements together when done correctly. Some of the best rugs to layer with solid transitional blue rugs include patterned or textured rugs, such as jute or sisal.
Try layering a blue transitional-style rug over a solid white rug for an elegant look. This is a great way to add some pattern or color to a space while maintaining a neutral look. When layering rugs, it's essential to consider each rug's size, shape, and material.
If you're layering a solid transitional rug like the Kaleen Renaissance 4500-17 Solid Blue Area Rug with another beautiful rug that has more of an abstract design or intricate details, it will enhance the simpler, more neutral patterns of the solid rug. That way, the two rugs will complement each other but won't compete for attention.
Use the Rug as a Wall Hanging
If you're looking for a unique and eye-catching way to decorate your walls, consider using a flatweave transitional rug like the Jaipur Coastal Resort COR01 Schooled Area Rug as a wall hanging. With its vibrant colors and patterns, this type of rug will add more visual interest to your space.
Start by finding the center point on your wall to hang your flatweave rug. This is typically done by measuring the width of the space and dividing that number in half. Use a level to mark where you will be hanging your rug. Depending on what works best for your space, you can use nails or adhesive hooks.
Once you've hung your flatweave rug on the wall, you can play around with different arrangements to create a unique look. For example, try hanging two rugs side-by-side to mimic the look of an eyelet curtain. You could also hang your rug in a cluster or row format to make it more like a piece of artwork.
Call Today
Rug Goddess is an online provider of high-quality rugs. We offer a virtually unlimited selection of options, including color, shape, size, and brands. If you prefer, we can assist you with any custom-designed rug you may desire.
We offer exceptional prices on any of our rugs, including Persian, Moroccan style, Jute, and any other type of rug you may desire.
Many of our rugs have sample sizes available if you want to try them before you buy. We offer free shipping within the continental United States on orders over $49 for deliveries.
Contact us today and let The Rug Goddess experts help you find and place an order for that perfect rug to compliment your home or office decor.