Posted by Janice Wells on October 28, 2022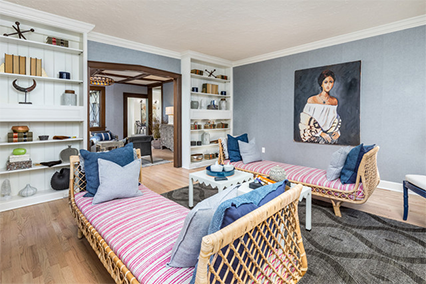 Today, there are more choices than ever when it comes to finding the perfect rug for your home. With so many materials, styles, and colors, it can be challenging to know where to start. However, if you are looking for a stylish and durable rug, you can't go wrong with a wool rug. Here are just some of the reasons why wool rugs are an excellent choice for any home:
Soft, Cozy Feel
Contemporary wool rugs are unmatched in terms of their soft, cozy feel. This is because they have a higher pile height than other rugs. Pile height is the measurement of the thickest part of the rug, and contemporary wool rugs typically have a pile height of between 1 and 1.5 inches. Contemporary wool rugs also have a higher KPSI rating.
KPSI, or knots per square inch, is a measure of the density of the weave. The higher the KPSI rating, the tighter the weave and the softer the feel. Contemporary wool rugs typically have a KPSI rating of between 80 and 100. As a result, they are incredibly soft and cozy, making them the perfect choice for any space.
Low-Maintenance Fibers
Another great feature of contemporary wool rugs is that they are made from natural wool fibers, which makes them low-maintenance and easy to clean. Wool is a natural fiber known for its durability, stain resistance, and hypoallergenic properties, making it an ideal choice for high-traffic areas such as living rooms and bedrooms.
With a contemporary wool rug, you won't have to worry about spills, stains, or allergens. You can simply spot clean your rug and use a vacuum cleaner to remove dust or debris. However, avoid scrubbing the stain, as this can damage the fibers. With proper care and cleaning, your wool rug will last for years.
Versatile Color Palettes and Patterns
Contemporary wool rugs offer a wide range of colors and patterns that can complement other elements in your home, like drapes and furniture. From bold geometric patterns to understated floral designs, there is a wool rug to suit every taste. These rugs are versatile enough to work in any room of your home, from the bedroom to the living room to the dining room.
Natural Fibers are Safer
If you are looking for a soft and cozy rug that is safe for daily use, then a contemporary wool rug is an excellent choice. Made from natural wool fibers, these rugs are naturally flame-retardant, meaning they are a safe option for homes with children and pets. They do not shed as much as other materials, so they look great for years to come.
Unlike synthetic fibers, wool is a renewable resource that is biodegradable and recyclable. Wool is also naturally resistant to mold, mildew, and dust mites. They are an excellent choice for eco-conscious consumers who want a safe, durable, and stylish floor covering.
Durable, Long-Lasting Construction
Contemporary wool rugs are known for their durability and long-lasting construction. Made from high-quality materials, these rugs can stand up to heavy foot traffic without showing signs of wear and tear.
The new generation of wool rugs is created with various processes, including hand-tufting, hand-knotting, hand-hooked, and hand-woven techniques that result in beautiful, long-lasting rugs.
Backing Provides Non-Slip Grip
Contemporary wool rugs are often backed with a non-slip material to provide extra grip underfoot. This helps prevent the rug from slipping and sliding on the floor, making it safer for children and pets. The backing material can also protect your floors from wear and tear, ensuring that your rug lasts.
Contemporary wool rugs typically use latex as a backing material because it provides a stronger grip than other materials and is easy to clean. Different types of backing provide different levels of slip resistance, so choose the right one for your needs:
The most popular type of backing is latex, which provides a firm grip and helps to prolong the life of the rug. However, latex can sometimes be challenging to clean and may only be suitable for some applications.
Crochet backing is another popular option that provides a more natural look and feel and is more aesthetically pleasing, but it does not offer the same level of slip resistance as latex.
Best Contemporary Wool Rugs at Rug Goddess
At Rug Goddess, we carry a wide selection of contemporary wool rugs suitable for any home. Whether you need a durable rug for high-traffic areas or something soft and cozy for your bedroom, we have the perfect rug for you:
The Textura TXT04-38 rug is a modern, hand-drawn design that features a whimsical concentric pattern with interwoven lines for energy and movement. This grey wool rug is composed of closely woven elements in variations of loop and cut pile to give it texture, while the free-flowing lines lend a relaxed yet modern feel to your room's design.
Handcrafted by skilled artisans using 100% imported wool, this shag rug is also serged by hand to create imperfections and make every piece in the collection a work of art. It is finished with Kaleen's signature cotton canvas backing for stability and refinement, making it the perfect choice for homes with children and pets. Its soft, cozy texture makes it an excellent option for your bedroom or living room.
If you are looking for a modern rug inspired by patterns from around the world, consider the Kaleen Rosaic ROA04-75 Grey Area Rug. This rug features unique mosaic designs in various colors, including grey, dark grey, beige, and camel.
Handcrafted from 100% imported wool, this rug is soft and cozy underfoot, making it the perfect choice for your bedroom or living room. It is also finished with Kaleen's cotton canvas backing for enhanced durability, so you can place it under furniture such as bathroom vanities or coffee tables and enjoy it for many years to come.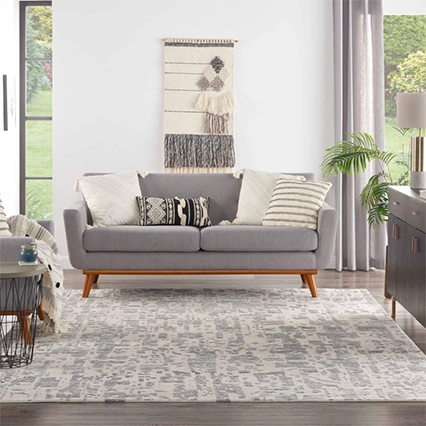 The Nourison Silk Shadows SHA19 Ivory Grey Area Rug is made of natural bamboo silk and high-quality New Zealand wool, with tribal and floral symbols in grey.
This finely hand-knotted rug features a silky texture that stands out in any interior design setting, with subtle highlights for added quality and texture. With a balance of tribal and contemporary styles, this rug brings exotic elegance to any space.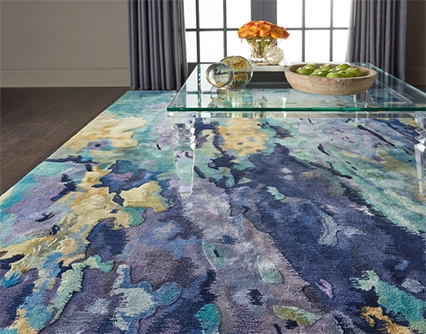 The Nourison Prismatic PRS09 Area Rug is a great way to add a touch of modern style to any room. This modern wool area rug features a vibrant design in calming shades of green, blue, lilac, turquoise, and maize, creating a striking visual statement. Softly shining strands of 100% wool are woven together to form the lush textures of the rug, which is both beautiful and serene.
It is available in various sizes so that you can find the best fit for your space. When styling this rug, consider using it in a living room or bedroom to create a cozy and inviting space. You can also use it in an office or dining room to add color and visual interest. Whether used as a sophisticated accent piece or an eye-catching focal point in your space, this elegant rug is sure to impress.
Wayside Landon Lane RG43053 Taupe Trellis Area Rug is a beautiful, modern rug suitable for any room in your home. This hand-tufted rug is made from high-quality wool and viscose, which gives it an ancient, cultural look while also being stylish and contemporary. This rug is perfect for a living room or bedroom and complements a range of room furniture styles.
The rug is also easy to care for, making it a great choice for busy homes. This versatile rug can do it all, whether you want to add some mid-century modern style to your home or enhance a more traditional space. It is available in a variety of sizes, so you can easily find the right fit for your space.
With its intricate global pattern and dynamic triangular motif, Jaipur Rize RIZ06 Zaid Wool Area Rug is sure to make a statement in any room. Made from 100% premium wool pile, it is durable and long-lasting, ensuring that it will look great for years.
Whether you're looking to update your living room or bedroom decor, this versatile gray and black rug is the perfect choice for any room in your home.
The Kas Eternity Area Rug Collection is a multi-textured masterpiece hand-tufted in India using high-quality wool. This rug features a modern design with a timeless color palette and a unique hi/lo effect and is available in various sizes, so you can easily find the perfect fit for your space.
Call Today
Rug Goddess is an online provider of high-quality rugs. We offer a virtually unlimited selection of options, including color, shape, size, and brands. If you prefer, we can assist you with any custom-designed rug you may desire.
We offer exceptional prices on any of our rugs, including Persian, Moroccan style, Jute, and any other type of rug you may desire.
Many of our rugs have sample sizes available if you want to try them before you buy. We offer free shipping within the continental United States on orders over $49 for deliveries.
Contact us today and let The Rug Goddess experts help you find and place an order for that perfect rug to compliment your home or office decor.