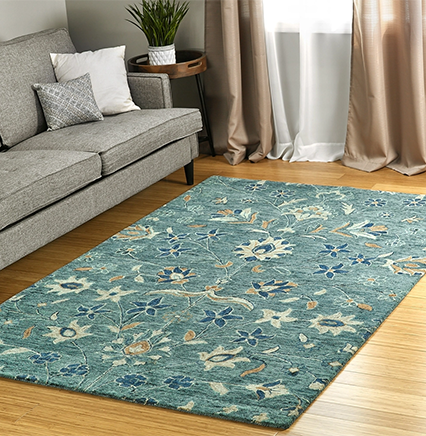 When it comes to interior decoration, rugs can tie a room together better than any other element. Rugs add color, texture, and embellishment while helping define a space and create a sense of coziness.
Transitional rugs are particularly well-suited for rooms with no specific design style. Here are a few tips for choosing the best transitional rugs for your home.
What is a Transitional Rug?
A transitional rug is a floor covering that combines contemporary and antique design elements. This rug style often features muted colors and patterns inspired by traditional motifs.
Transitional rugs are typically made from wool or synthetic materials and often have a low pile, meaning they have shorter fibers and less fluff. These rugs are popular in homes with a mixture of old and new furniture, as they help tie the two styles together.
How Did the Transitional Rug Style Begin?
The transitional rug style originated in the early 1900s in Europe. It was created by European designers who were influenced by Oriental rugs but wanted a design that was more suited to Western tastes. As a result, they incorporated elements of traditional Oriental rug designs with more modern European styles.
The resulting style was sleek and sophisticated, with a minimalistic aesthetic that was perfect for contemporary homes. Transitional rugs quickly gained popularity in Europe and America, and today they are one of the most popular styles of rugs on the market.
Why Transitional Rugs are Good for the Home
If you are looking to add a focal point or accent piece to a room in your home, there are several reasons why transitional rugs are an excellent choice:
Versatility
One of the most appealing things about transitional rugs is their versatility. They can be used in various ways and work well with traditional and modern furniture. If you are unsure of what rug style to add to your home, a transitional rug is a safe choice that works with various décor schemes.
On-Trend
Transitional rugs are currently very trendy. They have been popular for several years and show no signs of going out of style anytime soon. A transitional rug is an excellent option if you want a stylish rug.
Durability
Transitional area rugs are typically made from wool or synthetic materials, which are incredibly durable. Synthetic rugs are also water and stain-resistant and particularly good at withstanding heavy foot traffic, and they can last for many years with proper care.
Unique
Transitional rugs are often relatively unique, combining traditional and modern design elements. A transitional rug is a good option if you want a one-of-a-kind rug.
Tips for Buying Transitional Rugs
Since transitional rugs blend elements of traditional and modern styles, a lot of rugs can fit into this definition, making choosing just one challenging. Use our tips to help you select a transitional rug you'll love as part of your interior decoration.
Define Your Home's Style and Color Palette
Countless design styles of transitional rugs are available on the market today, making it difficult to choose the right one for your home. However, by understanding the basics of transitional rug design, you can narrow down your options and find a style that complements your existing décor.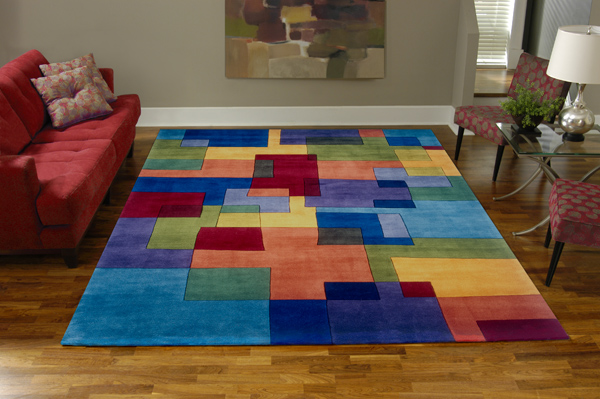 Clean lines and neutral colors typically characterize transitional rugs. They often have geometric patterns, like the Momeni New Wave NW-49 Multi Area Rug or simple florals, and may incorporate traditional and contemporary elements. If you are unsure of which style to choose, look for a transitional rug with a muted color palette that blends seamlessly with your existing furniture and décor.
Decide Where to Place Your Rug
Think about the function of the room. A rug in a high-traffic area will need to be more durable and easier to clean than one in a low-traffic area. Also, take into account the size and layout of the room. A large rug can make a small space feel cozier, while a small rug can define a larger space.
Decide the Rug Shape
Rugs come in different shapes and sizes, each with its own benefits:
Rectangular rugs are versatile and can be used in various settings, from living rooms to bedrooms.
Round rugs are ideal for small spaces, such as bathrooms or entryways. They help create a sense of cohesion and make a room feel larger.
Runner rugs are perfect for hallways or areas with limited floor space. They provide a touch of elegance and can also help protect floors from wear and tear.
Measure Your Space and Decide on Your Sizing
The size of your rug can have a significant impact on the look and feel of your room:
If you have a small space, like a hallway or entryway, choose a smaller rug so it doesn't overwhelm the room.
If you have a large space, like a living room or dining room, select a larger rug to help define the space.
If you have furniture, ensure the rug is large enough to accommodate all the pieces of furniture in a seating area, with at least 18 inches of bare floor around the perimeter to create a cohesive look.
Look for a High-Quality Rug that Will last Long and Withstand Everyday Use
Wool rugs are popular because they are durable and easy to clean. In high-traffic areas, synthetic materials such as nylon or polyester are more durable and easier to clean.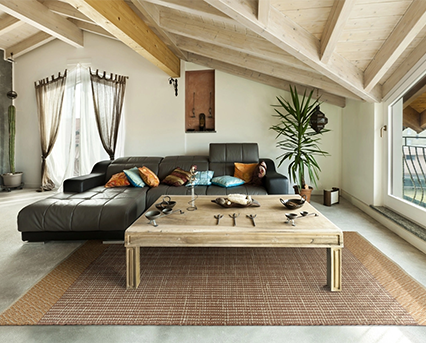 Decide on the Complementary Transitional Rug Design
If you have hardwood floors, consider a rug made of natural fibers like wool or jute, like the Kaleen Colinas COL02-53 Paprika Reversible Jute Area Rug. If your furniture is upholstered in fabric, look for a rug with a similar weave or pattern.
You can also use the rug to set the tone of the room. A bold geometric print adds visual interest to a simple space, while a subdued color palette helps create a tranquil and relaxing environment. /p>
Consider the Type of Flooring You Have Before Buying a Transitional Rug
Rugs can help to protect flooring from wear and tear, but they can also cause damage if not used properly. If you have hardwood floors, choosing a rug with a non-slip backing is crucial to prevent it from slipping around. Rugs with a heavy backing can also damage hardwood floors if they are not adequately secured.
Rugs with fringes or tassels should be avoided on hardwood floors as they can become tangled in the finish and cause scratches. If you have carpeted floors, avoid using rugs with rubber backing, as this can cause the carpet fibers to break down over time.
Find a Reputable Seller
Rug quality can vary greatly, and a good seller will be able to offer advice on which type of rug is best for your needs. A good seller also provides a warranty or guarantee on the rug if it is damaged or worn out prematurely.
Cheaper options may be tempting, but in the long run, it is worth spending a little extra to get a quality rug that will last for years.
Call Today
Rug Goddess is an online provider of high-quality rugs. We offer a virtually unlimited selection of options, including color, shape, size, and brands. If you prefer, we can assist you with any custom-designed rug you may desire.
We offer exceptional prices on any of our rugs, including Persian, Moroccan style, Jute, and any other type of rug you may desire.
Many of our rugs have sample sizes available if you want to try them before you buy. We offer free shipping within the continental United States on orders over $49 for deliveries.
Contact us today and let the Rug Goddess experts help you find and place an order for that perfect rug to complement your home or office decor.