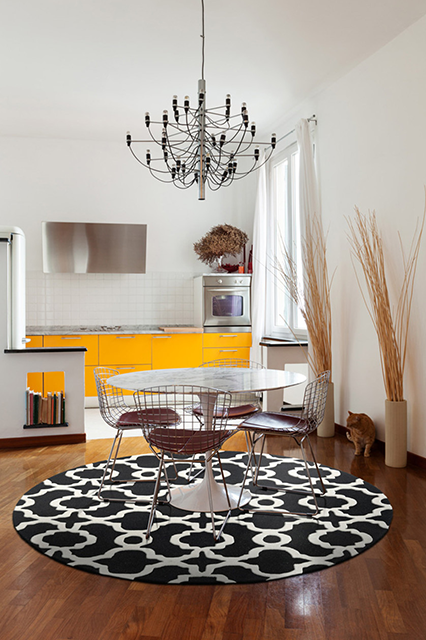 Kaleen is a high-end rug brand that offers quality, craftsmanship, and style. Their rugs are designed to epitomize elegance and luxury, and they are a popular choice for those who want to add a touch of sophistication to their home. Kaleen rugs are made from premium materials and available in various colors and designs.
They are handmade by skilled artisans, which ensures that each rug is a unique work of art and are known for their durability, making them a great investment for your home.
Whether you want a rug to tie your room together or something that will last for years, Kaleen round rugs are an excellent choice. Here are a few tips on using Kaleen round rugs to create a stylish and inviting space in your home.
Tips for Decorating With Kaleen Rugs
Kaleen rugs come in a variety of styles, from traditional to contemporary, making them a great addition to any décor style. However, before you start shopping, there are a few things you should keep in mind:
Buying a Rug is Just Like Buying a Piece of Artwork
Buy something that you will enjoy, and don't be afraid to go bold. Trust your judgment and pick something that complements your sense of style, but choose a rug with colors and patterns that complement the existing décor, like window treatments and furniture.
Consider Your Lifestyle
If you have children or pets or plan to place your rug in a high-traffic area, choose a durable and easy-to-clean rug, like one made from wool. A dark-colored or patterned rug hides more stains than a lighter hue.
Decide if You Want a Traditional, Contemporary, or Transitional Rug
A traditional style rug often features a wool pile, an antique finish, and a jewel-tone or muted shades. A contemporary rug is designed with geometric and abstract patterns for today's lifestyle. A transitional style blends traditional with contemporary for an attractive, easy-to-live style.
Create a Focal Point
Rugs can be used to distinguish different areas of a larger room or pull the elements of a room together. Think about the purpose you hope to achieve. Is the rug's purpose to keep your feet warm, modify a decorative element in a space, or both?
Learn How to Use Kaleen Round Rugs in Your Home
When shopping for a new rug, you'll likely think of rectangular rugs, but round or circular rugs can sometimes be a better choice for a room, especially in a transitional area. Use our decorating ideas as inspiration, and since Kaleen round rugs are available in various styles and colors, you can go neutral, bright, bold, and chic!
Add a Brightly Patterned Rug to a Nursery or Kid's Bedroom
If you want to add a pop of color to your nursery or kid's bedroom, Kaleen rugs offer a wide range of patterns and colors that are perfect for these spaces. To create a fun and inviting space, consider pairing a brightly patterned rug with neutral furniture in white or pine. This helps highlight the colors in the rug without overwhelming the room.
The Kaleen Taj TAJo22-25 Red Floral Area Rug is an excellent choice for any nursery or kid's bedroom. This brightly colored floral rug has a velvet finish, and the rug can be placed on hardwood floors or over a neutral wall-to-wall carpet to add a bit of whimsy to your child's room.
Use a Neutral Low Pile Rug as a Base Layer
If you want to create a cozy, inviting living room space, one of the best ways to do this is by using low pile rugs. Rugs in neutral colors like beige and tan can be perfect as a base layer underneath your furniture. Kaleen low pile rugs are made from durable materials, so they can easily withstand heavy foot traffic.
Try pairing a neutral Kaleen round rug with classic leather furniture and statement artwork to create an understated and sophisticated living room space. This helps you ground your room and create a relaxing space for you and your guests.
The Kaleen Tara Rounds 7703-05 Tropical Round Area Rug has a sun-washed look, and its pattern has been faded for a worn antique appearance. It features a tropical motif in neutral colors like sand and brown, making it a base layer underneath a kitchen table in a coastal-style home.
Create a Calming Bedroom Atmosphere
Try pairing an elegant round rug like the timeless Kaleen Tara Rounds 7706-04 Burgundy Traditional Round Rug with gold accents and plush bedding to create an ultra-cozy retreat. This helps bring the whole room together and create a soothing atmosphere.
You may have space for a seating area if your bedroom is large enough, and a round rug underneath a rocking chair is ideal for creating a reading nook and giving you a place to hang out besides your bed.
Protect Your Dining Room Floors
If you have a family with young children, one of the best ways to protect your dining room floors is by using jute rugs. These jute rugs can easily withstand wear and tear while adding style and texture to your space.
Try pairing the Kaleen Tara 7710-01 Ivory Round Area Rug with formal décor and modern lighting to create an elegant dining room for impressing your guests while protecting your floor. The muted shades and intricate pattern helps ground your room, making it perfect for entertaining guests.
Add a Splash of Color to a Minimalist Living Room
If you want to create a refined, minimal living space, one of the best ways to do this is by using bold rugs in neutral colors. Try pairing a bold round rug with sleek furniture and accent pieces to create a minimalist living room that still has plenty of character.
This will help to ground your space and create an enticing atmosphere. This can be done easily with our Kaleen Tara Rounds 7702-02 Black Traditional Round Rug, which offers an eye-catching pattern inspired by rugs from all over the world. This eye-catching rug is hand-tufted in India of 100% wool.
Make a Big Impression on Guests
When you invite guests into your home, the last thing you want is for them to have an underwhelming first impression. An ornate round rug in the entryway is a great way to make a big splash.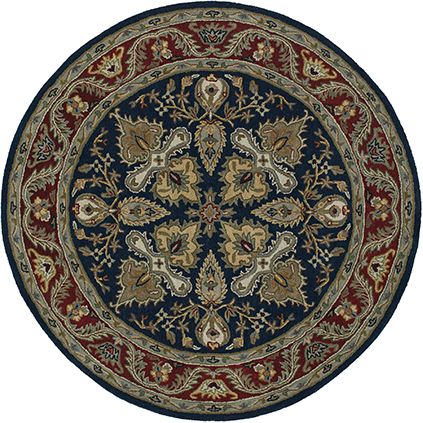 To create a chic and sophisticated entryway that will make your guests say "wow," pair an ornate Kaleen round rug like the Kaleen Tara Rounds 7705-22 Navy Traditional Round Rug with high-end décor pieces, such as intricately carved furniture and statement artwork.
This will help bring the space together and create an upscale look that will leave a lasting impression on your guests.
Design a Luxe Home Office
A luxurious round rug is a perfect way to add a touch of elegance to any home office space. To design a stylish and functional home office, try pairing a high-quality rug like the Kaleen Tara Round/Square REV03-02 Black White Rug, which is made of the finest 100% premium virgin wool with modern furniture, sleek organizational accessories and task lighting.
This creates a versatile space that helps boost your productivity and creativity.
Create a Cozy Reading Nook
If you love to curl up with a good book and your favorite beverage, one of the best ways to create a cozy reading nook is by using a soft and comfortable round rug. When choosing a round rug for your reading nook, it's essential to consider the texture and material of the rug.
For example, a thick wool rug can help to provide extra cushioning when you're curled up on the floor with your favorite book.
To create the ultimate reading nook where you can escape the stresses of life, try pairing a soft Kaleen custom round rug like the Kaleen Tara Square 7807-57 Salsa Red Traditional Rug, which features a traditional floral and leaf pattern with a modern twist in colors of gold, red and ivory with some cozy furniture, plush pillows, and plenty of books.
This creates an inviting atmosphere perfect for relaxing with your favorite read.
Elevate Your Florida Room for Entertaining
Florida rooms can be the perfect spot to host friends and family, but they need to feel just as stylish and sophisticated as indoor spaces. Kaleen rugs in bright colors help elevate your outdoor space and make it the perfect place to host parties and other gatherings.
Start by pairing a bold rug like the Kaleen Tara Square TAJ02-22 Navy Floral Area Rug with chic outdoor furniture, such as stylish lounge chairs and elegant dining sets. This creates a cohesive look that is perfect for hosting guests in style.
Call Today
Rug Goddess is an online provider of high-quality rugs. We offer a virtually unlimited selection of options, including color, shape, size, and brands. If you prefer, we can assist you with any custom-designed rug you may desire.
We offer exceptional prices on any of our rugs, including Persian, Moroccan style, Jute, and any other type of rug you may desire.
Many of our rugs have sample sizes available if you want to try them before you buy. We offer free shipping within the continental United States on orders over $49 for deliveries.
Contact us today and let The Rug Goddess experts help you find and place an order for that perfect rug to complement your home or office décor.