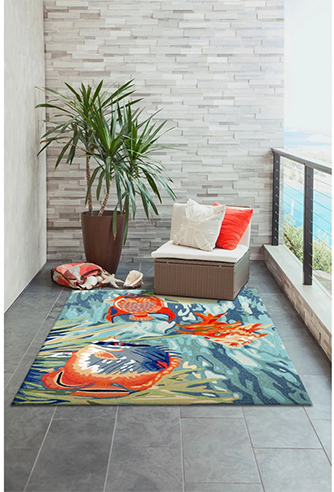 A patio is an excellent extension of your living area, providing extra space for entertaining, dining, or simply relaxing outdoors. If you're lucky enough to have a patio, you may want to consider adding an outdoor rug.
Area rugs personalize your outdoor patio and make it feel like your own oasis.
What is an Outdoor Rug?
An outdoor rug is designed to withstand the weather elements while maintaining its beautiful finish. Manufacturers produce outdoor rugs to be durable and fade-resistant, from the backing to the materials used to weatherproof the rug.
Why You Need an Outdoor Rug?
Outdoor rugs are a great way to add personality and style to your outdoor space. Not only do they add color and pattern, but they also help define the space and make it more inviting.
Area rugs help protect your deck or patio from weather damage and wear and tear. If you live in an area with a lot of sunlight, an outdoor rug can keep your patio or deck cooler by reflecting the heat.
What to Think About Before Buying an Outdoor Rug?
Outdoor rugs serve the same purpose as indoor rugs - they define areas, add a touch of color, enhance your decor and protect surfaces. Before you put your decorating skills to the test and buy an outdoor rug, keep a few things in mind.
Where Will it Go?
When deciding on the placement of your patio rug, consider your outdoor flooring: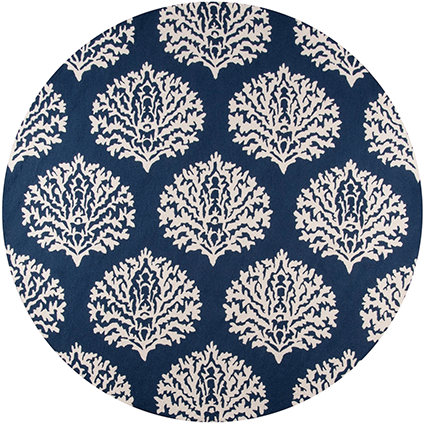 Grass
If your outdoor area doesn't have typical flooring, a rug on grass may be a great way to extend your living area. You'll need to choose a rug with non-slip backing and specifically made for grass floors. These rugs typically come with a weather-resistant mesh that encourages airflow and allows the grass underneath to breathe.
Topping grass with an outdoor rug traps moisture, so consider self-installing temporary flooring like click-lock tiles that can help the rug dry after it gets wet. You can also periodically hang the rug to let it air dry in the sun.
Look for rugs made of synthetic fibers such as polyester or nylon, which are more resistant to moisture. A Momeni Veranda VR-45 Navy Indoor Outdoor Area Rug is an excellent choice for a synthetic fiber rug.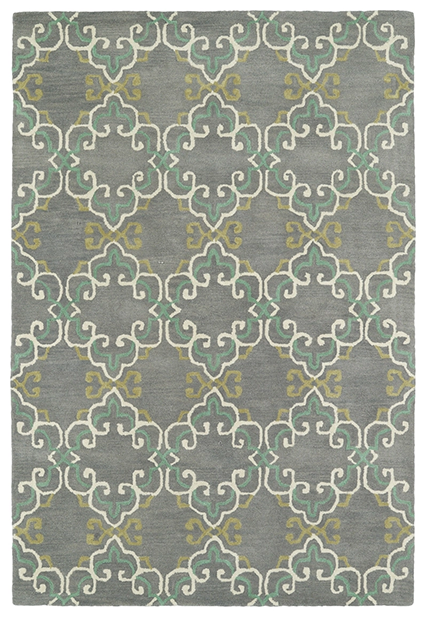 Concrete
Any type of spill on a concrete floor will seep in and cause a stain that will be very difficult to remove due to the porosity of the concrete. If a rug is not properly cared for, it will start to show wear and tear much quicker when placed on a concrete floor.
Unless the concrete is sealed, it can be porous, leading to mildew, so it is best to choose a breathable rug.
When shopping for a rug for a concrete floor, look for a rug like the Kaleen Melange MLG06-73 Pewter Area Rug or other rugs made of natural fibers such as wool or cotton. Blended fibers are also an option but keep away from polypropylene or polyester rugs as they will break down quickly on a concrete floor.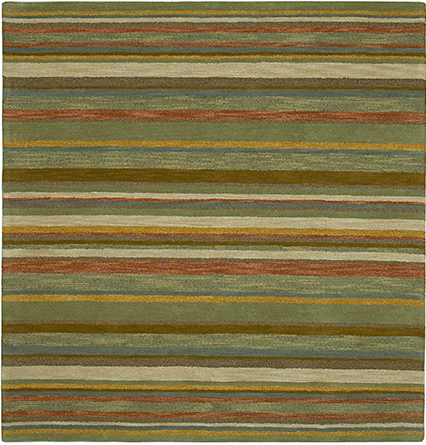 Tile
If you have a tile floor, avoid rugs with latex backing. That's because the adhesive can damage your tiles. Look for rugs made specifically for tile floors or with felt backing.
A square rug like the Kaleen Tara Square 7811-44 Natural Striped Square Rug is a perfect option.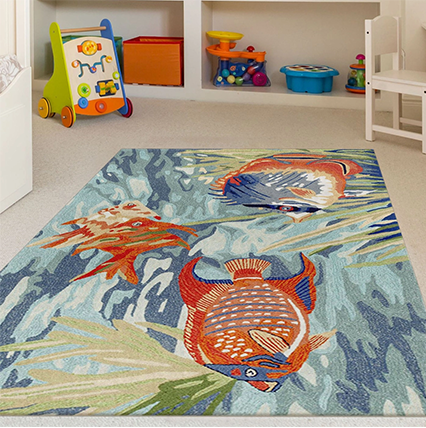 Wooden Deck
The harsh sunlight and constant foot traffic can cause wood to fade and wear down over time. Wood is also susceptible to rot, mold, and insects that may be escalated by a rug covering. Outdoor rugs should be durable materials that can withstand the elements and heavy foot traffic. Try the Couristan Outdoor Escape 2123/8011 Pacific Heights Ocean Area Rug for wooden floors.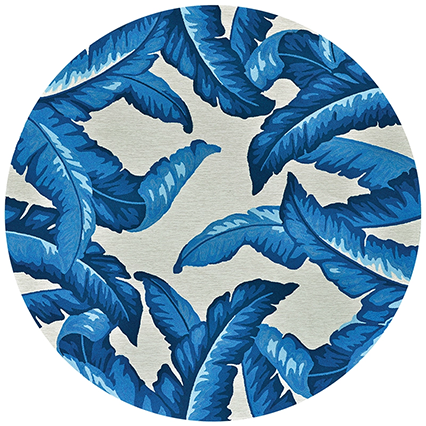 Steel
Metal balconies are prevalent in both coastal and urban settings. They're susceptible to corrosion, especially in rainy conditions. Click-lock tiles underneath your outdoor rug are a great way to prolong your rug's life. Steel floors can also be slippery, increasing the chances of slipping or falling on rugs not made for or prepped for steel floors.
To minimize these risks, choose a rug made from durable materials like the hard-wearing Couristan Covington 2993/2003 Blue Leaf Area Rug with hand-hooked construction.
What Activities Happen in Your Outdoor Area?
Depending on what activities take place in your outdoor area, you will want to look for different features in an outdoor rug:
Meals: Spilled food and drinks can quickly lead to stains, which can be difficult or impossible to remove. Light-colored rugs are more susceptible to staining than dark-colored rugs. The type of fiber used in a rug can also make a difference. For example, natural fibers like wool and cotton are more likely to absorb spills than synthetic fibers like polyester and nylon and may require more frequent cleaning.
Portable fire pit: Portable fire pits generate heat and flames, which can damage or singe the fibers of some rugs. The smoke produced by a portable fire pit can also discolor light-colored rugs. Choose a rug made from durable, heat-resistant materials such as polypropylene or wool. These rugs are more likely to withstand the heat and flames of a portable fire pit without sustaining damage.
Kids playing: A rug in the kid's playing area can protect flooring from scuffs, scratches, and other damage. However, rugs can also be easily stained by spills, dirt, and debris, so choose a rug made from durable materials that are easy to clean. It's also advisable to pick a rug with a non-slip backing to help prevent accidents.
What to Look for in an Outdoor Rug?
When you choose the right outdoor area rug, bring a polished and finished look to a bare patio. Since your outdoor rug has to stand up to the weather elements, not just any rug will do. Here's what to consider before buying.
Rug Size
When shopping for an outdoor rug, size is an important consideration. The best rug size and shape depends on your outdoor space's furniture layout and dimensions. The rug should be large enough to anchor the furniture but small enough, so it doesn't look disproportionate.
Choose a rug at least 2 feet shorter than the shortest wall in the room. For example, if the shortest wall is 8 feet long, the rug should be at least 6 feet wide. Another option is to choose a rug longer than the patio furniture. If the seating is 6 feet long, the rug should be 8 feet wide.
Rug Material
The best material for an outdoor rug depends on your area's climate and weather conditions. The most important feature to consider is whether the rug is waterproof or water-resistant because rugs for an outdoor space must be durable and weather sensitive.
While rugs come in various materials, synthetic and natural are the two most popular for outdoor use.
Synthetics: Nylon is one of the most popular choices due to its durability and ease of cleaning, but it can also be prone to static electricity and crushing. Polypropylene is another popular choice for its stain and mold-resistant properties, but it is not as durable as nylon and may fade over time. This material can handle heavy foot traffic and high moisture but is highly flammable, so it should not be placed near fire pits or grills. Polypropylene is also a great option because the rugs are made from recycled plastic making them eco-friendly. Acrylic is a less common choice due to its relatively high cost, but it has excellent color retention and resistance to fading.
Natural fibers: Natural fibers such as silk, wool, linen, jute, and cotton are fantastic for outdoor rugs because of their durability, high absorbency, and eco-friendliness. Natural fibers are also more hypoallergenic than synthetic fibers, making them a good choice for people with allergies. Natural rugs are usually available in muted tones, natural shades, and gentle colorways but can be more expensive than synthetic fibers and are more susceptible to staining and fading over time.
Design Features
If you want to up the ante of your alfresco setup, few things bring a space together like an outdoor rug. When shopping for an outdoor rug, you need to consider the design features to achieve the look and feel you want in your outdoor space. Design features include:
Styles
The design style of your rug can drastically change the feel of your outdoor area. Here are three great options for outdoor areas to help you add your unique style to your outdoor space.
Farmhouse style prioritizes simplicity, practicality, and rustic charm, making it an excellent style for an outdoor rug. These rugs tend to be made from natural materials like jute or wool, making them durable and long-lasting.

Farmhouse style is great for country homes or homes that want to create a rustic, down-to-earth feeling.

Modern style is characterized by its clean lines, monochromatic color palette, natural materials, and minimalist aesthetic, making it another perfect for outdoor areas. Modern rugs are usually made from synthetic materials like polypropylene, which makes them more resistant to mold and mildew.

A modern style rug for an outdoor area adds variety to your space by mixing a cleaner, minimalist design with the naturally rustic outdoor space.

Bohemian design style lacks structure, consisting of layers of patterns, colors, and textures. Bohemian rugs are usually made from synthetic materials, making them budget-friendly and easy to maintain. Bohemian rugs add personality and eclectic charm to your outdoor space.
Patterns
Some of the pattern choices for outdoor rugs depend on your chosen style. But within those design styles, you can select the pattern that best fits your desired look. These rugs are also an excellent choice for high-traffic areas because they hide stains from accidental spills.
Geometric patterns usually consist of shapes like hexagons, rectangles, squares, triangles, and circles that repeat regularly. They are great for creating a contemporary feel but can also fit more eclectic styles with abstract pattern choices.
Stripes are classic, elegant, and one of the most versatile patterns available. Striped rugs are great for outdoor areas because they give depth to a space, like small patios or enclosed sitting areas.
Floral patterns help bring nature indoors, but they can also be perfect for outdoor areas. The bold and bright designs of floral rugs can add cheer to a dark or shady outdoor area or complement an abundant garden. Pair a floral rug with neutral furniture to avoid creating a cluttered or overdesigned feeling.
Features
Outdoor rugs need to be able to withstand heavy foot traffic as well as rain, sun, and dirt. As a result, they need to have additional features that indoor rugs do not:
Water-resistant to help keep water from seeping in and destroying the fibers.
Stain-resistant so they can be easily cleaned and last longer.
UV-treated to resist the sun fading.
Mold and mildew-resistant to avoid getting moldy in damp conditions.
How to Care for an Outdoor Rug?
Outdoor rugs can be tricky to maintain. Simply being outdoors creates problems like dirt, germs, and pooling water. But there are a few simple ways to make sure your outdoor rugs last for years:
Choose the best material for your rug. Synthetic fibers are best for open areas since they can dry quickly, while natural fibers are durable but can't handle rain, making them better for covered patios.
Buy a rug pad. Whether indoor or outdoor, rug pads extend the life of your rug.
Clean spills as soon as they happen. Wash according to the rug's directions, but blotting with mild dish soap and water will help with any mess and avoid damaging the rug's fibers.
Hang rugs to dry after a storm. Allowing the rug to air out on both sides helps avoid mildew on or under the rug.
Clean and store rugs before the weather changes. Storing rugs during changing seasons like the rainy season or snowy winters is the best way to ensure your rug lasts. Sitting in this weather day-in and day-out won't allow your rug to dry adequately and causes irreparable mildew damage or harm the flooring underneath the rug.
Call Today
Rug Goddess is an online provider of high-quality rugs. We offer a virtually unlimited selection of options, including color, shape, size, and brands. If you prefer, we can assist you with any custom-designed rug you may desire.
We offer exceptional prices on any of our rugs, including Persian, Moroccan style, Jute, and any other type of rug you may desire.
Many of our rugs have sample sizes available if you want to try them before you buy. We offer free shipping within the continental United States on orders over $49 for deliveries.
Contact us today and let The Rug Goddess experts help you find and place an order for that perfect rug to complement your home or office decor.