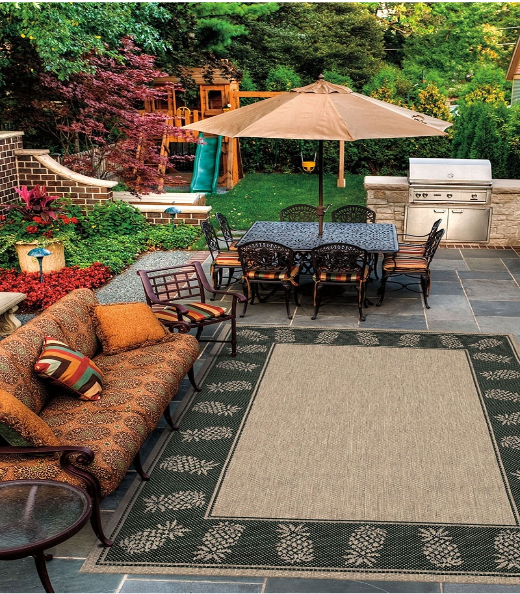 Decorating outdoor spaces is a great way to add value and personality to your home. If you're looking for an easy way to revitalize your home's outdoor spaces, consider adding a few square rugs to your outdoor decorating scheme.
A square outdoor rug can be a great way to tie together your outdoor aesthetic, whether you want your yard to be an oasis or a place for guests to relax at night.
Why Choose a Square Rug for an Outdoor Setting?
Square rugs provide visual interest and depth to the outdoors. Their shapes and lines can help blend your indoor and outdoor spaces to create a natural flow and a more cohesive look.
Outdoor Square Rugs Work Almost Anywhere
Square rugs' simple shape makes them easy to place in any location, and they can go with most outdoor decor schemes. They can be placed anywhere, from the patio to your backyard to your porch or deck.
Square Rugs Have Clean Lines and Shapes
The square shape is a smart choice for outdoor settings since they offer clean lines that make them perfect for a more polished and put-together look in your garden or patio. They go well with a square-shaped table and other similarly-shaped patio furniture.
Square rugs also extend your indoor living space. You can use a runner behind a sofa to direct the eye to the deck or patio. Then, add a square rug under your outdoor dining seating in a similar shade or pattern to help unify the living room with the outdoors.
Square Rugs Look Good
Whether you are hosting a party or simply relaxing in your backyard, the right outdoor square rug adds a touch of elegance to your space. Square rugs make your outdoor space stand out. Even if you have a small backyard space, such as a gazebo, adding just one or two square area rugs can transform the area's look, so it looks bigger.
Why Are Square Outdoor Rugs Popular?
The popularity of square outdoor rugs is on the rise for several reasons:
Outdoor square rugs are currently enjoying a surge in popularity due to their versatility and style. You can find a square outdoor rug that suits any taste and style thanks to the variety of designs and materials available.
If you're on a budget, you can find well-made square outdoor rugs for a fraction of what you'll pay for other shapes or sizes. For a reasonable price, you can find an affordable outdoor square rug to cover a large high-traffic area, such as a deck or a dining area.
Most square outdoor rugs are made from durable materials such as polypropylene that can withstand moisture and high temperatures. Square rugs made from these materials will not fade or deteriorate over time due to their strength. They are also low-maintenance; you only need to give the rug a quick vacuum or shake to remove dirt or debris.
How to Choose the Best Square Outdoor Rug for Your Needs
Choosing the perfect outdoor rug for your home can be challenging with so many options available. Here are some key points to consider when selecting your ideal square outdoor rug.
Rug Materials
Choosing a suitable material for your square rug is critical to ensure it will last outdoors. The material that makes up your outdoor rug impacts its durability, comfort, and appearance.
Outdoor square rugs come in durable materials, such as natural plant-based fibers like jute and sisal. These fibers are environmentally friendly, won't fade, and can handle a lot of weight. If you live in a region with high humidity, opt for a square outdoor rug made of a water-resistant material like polypropylene. Unlike wool and silk, which can become easily stained, polypropylene won't grow mold and mildew from water exposure.
Pile Height
When choosing an outdoor rug, it is essential to consider the pile height as it affects the longevity and durability of the carpet. Pile height is the thickness of the fibers in the rug, measured from the backing to the top of the pile using a small ruler.
Choose an outdoor area rug with a low pile for your exterior spaces since they are less likely to get caught in objects and avoid pulling. Furthermore, they are easier to clean as you can reach the rug's base without ruining it, unlike a carpet with a high pile height.
Size of Your Space
Rugs can divide spaces and define boundaries in your outdoor space, so they must fit into your existing layout. Measure the length and width of your area to determine the perfect indoor outdoor rug. Consider the locations of your doors to prevent your guests from getting tangled in the rug. You should factor in outdoor features such as your barbecue grill, pool, and fire pit.
If you're using a rug in one area, measure how much coverage you need. For instance, if you have a kitchen dining table that seats eight people and want an indoor outdoor rug, a large-sized square rug should fit all eight chairs and have room on either side for people to walk on it.
Outdoor Aesthetics
Various designs and patterns are available for square outdoor rugs ranging from oriental medallions to modern designs. Identify patterns in your rug that match those in your other outdoor decor. You can also break up your layout with abstract-print rugs that design against the sleek lines and angles of your furniture. Modern patio rugs with neutral colors can complement your furniture's sleek silhouettes.
Best Square Rugs for 2022
Due to the exposure to the elements, an ideal outdoor rug should be stylish and weatherproof but also affordable and durable. You can rely on Rug Goddess for a wide range of outdoor rugs designed to withstand the elements and offer UV-resistant colors that won't fade or crack.
This collection of seven square outdoor rugs can enhance the look and feel of your outdoor space with a dynamic display of colors and contrasts.
Recife Island Retreat Terracotta Palm Tree Indoor Outdoor Rug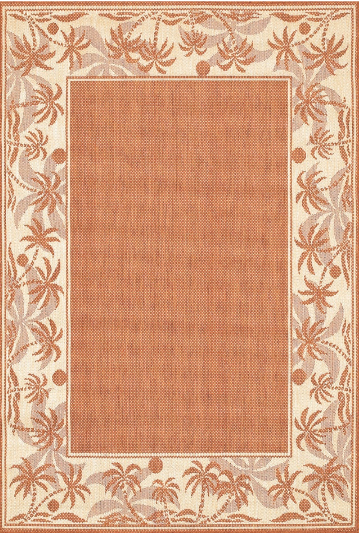 A Recife Island Retreat Palm Tree Indoor Outdoor rug will give your coastal room furniture a chic resort feel. This rug features a tropical palm tree motif in shades of terracotta, appealing to those who want to bring the natural feel of the beach into their backyard.
The rug is made of polypropylene and is mold and mildew-resistant, making it ideal for year-round style and low-key maintenance. This construction method gives the carpet a more matte and textured look, making it more durable and easier to clean.
Trans Ocean Visions I 3043/48 Zebra Black Area Rug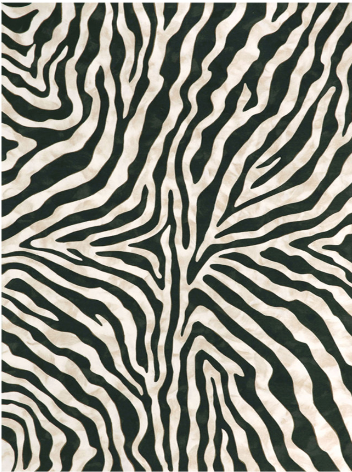 The Trans Ocean 3043/48 Zebra Area Rug has a pile surface made of polyester. It has a non-slip backing that prevents shifting on outdoor surfaces such as stone and wooden decks. The rug has a black and white zebra pattern that makes it an eye-catching addition to any outdoor space.
It goes well with other black and white furniture to help ground the zebra pattern. The rug can also be a base for bright and bold outdoor furniture if you have a colorful outdoor design aesthetic.
Recife 1583/3000 Veranda Natural Cocoa Area Rug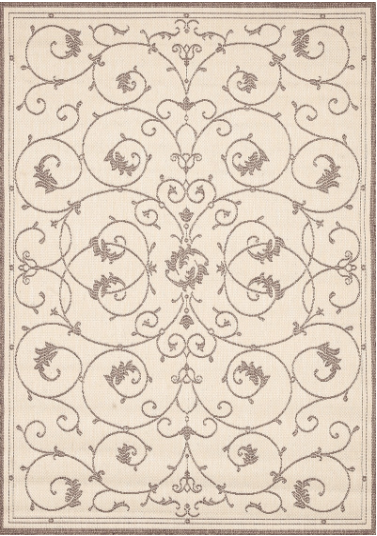 Think about adding a Recife 1583/3000 Veranda Cocoa Area Rug for an old-world charm if you have traditional patio decor. The neutral beige color palette and conventional abstract pattern make it easy to pair with existing stone entryways and neutral patio furniture.
Its flatweave or kilim construction makes it suitable for the outdoors and an extension of any indoor space. Try placing this rug underneath patio furniture for an elegant look that impresses guests when they visit your backyard.
Its flatweave or kilim construction makes it suitable for the outdoors and an extension of any indoor space. Try placing this rug underneath patio furniture for an elegant look that impresses guests when they visit your backyard.
Tropical Pineapple Black Indoor Outdoor Rug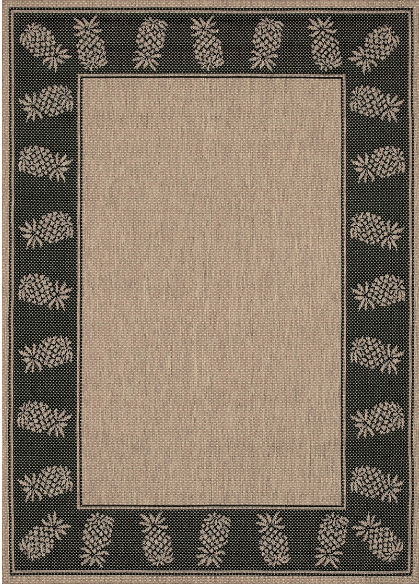 You can keep your tropical garden contemporary with this chic indoor/outdoor square rug from Couristan. It is available in black and has a pineapple motif on the border. The carpet comes in two square rug sizes of 7' and 6" and 8' and 6".
It is made from 100% polypropylene fibers that are ultra-durable and easy to clean with soap and water or by using a hose or pressure washer. The rug blends with silver cushions, wood and cane patio furniture, and charming hanging garden lights.
Cirque Caribe 4302/04 Indoor-Outdoor Rug
This Cirque Caribe 4302/04 Indoor-Outdoor Rug has a distinctive abstract effect with blue and green patterns thanks to the Lamontage technique, a blend of handcrafting, and state-of-the-art technology. It combines polyester fibers with modern needle punching and latex techniques to create a practical and long-lasting outdoor rug.
It can brighten a plain porch or patio made from wood or concrete. Adding it with a white house exterior and patio furniture helps tie the space together or place it poolside under loungers for a Caribbean vibe. Your outdoor space can have a modern tropical style with this rug without the traditional aesthetic of flowers and trees.
Recife 1078/1212 Antique Medallion Champagne Blue Indoor Outdoor Rug
Your outdoor space will feel more luxurious with the Antique Medallion Champagne Blue Outdoor Rug. This high-quality rug is made from polypropylene and is stain- and fade-resistant. In addition, it has a durable flatweave construction that makes it suitable for the outdoors.
The outdoor rug features an elegant border against a pale blue background and a cream medallion design. You can have the carpet complement black furniture with colorful, patterned cushions for a dramatic flair. You could also incorporate the rug with matching bathroom vanities if you have an outdoor shower.
Trans Ocean Visions IV 3255/03 Coral Reef Water Area Rug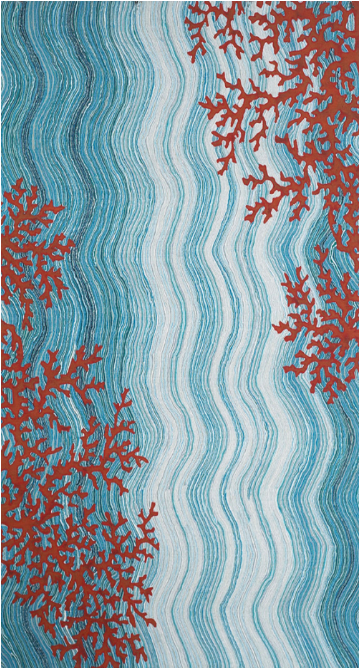 The Trans Ocean Visions IV 3255/03 Coral Reef Water Area Rug featuring blue waves and a red coral design can help you tie the tropical aesthetic together and bring the ocean to your backyard. Besides the rug, plants with large leaves, hanging chairs, and natural stone accents give your outdoor space its tropical aesthetic.
The pile is made from soft polyester fibers on your feet and won't shed fibers over time. The printed rug has been UV stabilized to protect it from long-term sun exposure. Additionally, it has been treated with antimicrobials so that it will grow any disease-causing microorganisms. With only regular vacuuming and spot cleaning, you can easily take care of this outdoor square rug that can last for years.
Call Today
Adding an outdoor area rug to your home can add style and flair. Any aesthetic can be fit by outdoor square rugs, whether you want a tropical look or to bring the ocean to your yard. They can also last a long time due to their natural and synthetic materials. The wide selection of styles, colors, and materials at Rug Goddess ensures you'll find the best outdoor rug for your home.
Rug Goddess is an online provider of high-quality rugs. We offer a virtually unlimited selection of options, including color, shape, size, and brands. If you prefer, we can assist you with any custom-designed rug you may desire.
We offer exceptional prices on any of our rugs, including Persian, Moroccan style, Jute, and any other type of rug you may desire.
Many of our rugs have sample sizes available if you want to try them before you buy.
We offer free shipping within the continental United States on orders over $49 for deliveries.
Contact us today and let The Rug Goddess experts help you find and place an order for that perfect rug to complement your home or office decor.