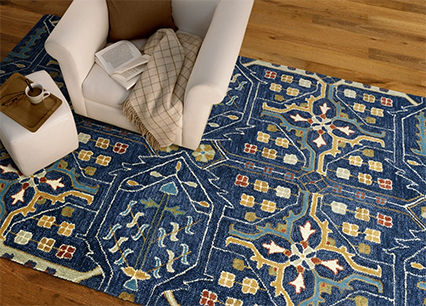 If you're looking for a way to add some Southwestern flair to your living room, one great option is to use area rugs. Southwestern area rugs come in a wide range of colors, patterns, and styles, so you can easily find one that complements your existing decor.
Plus, they're an easy way to change up the look of your space without doing a complete overhaul. Here are some tips on using Southwestern area rugs to decorate your living room.
What is a Southwestern Rug?
Southwestern rugs are a type of floor covering from the American Southwest. These rugs are typically made from wool and feature geometric designs inspired by the region's Native American cultures.
Southwestern rugs can be used as wall hangings, floor coverings, or even bedspreads. While the deserts of the Southwest inspire the color palette of typical Southwestern rugs, they can come in various colors and styles.
Typical Southwestern Rug Designs
Southwestern rugs come in various designs, making them great for matching any home design style or personal aesthetic. But because there are so many options, knowing where to begin choosing your rug can be challenging. See which colors, patterns, and materials are the best option for your home.
Color Options
Southwestern rugs typically feature a bold, colorful design. Common colors include brown, yellow, orange, green, and turquoise. The specific color palette of a Southwestern rug depends on the particular design, but these colors are used to create a striking contrast that enhances the overall pattern.
Patterns and Design Types
Southwestern rugs often feature geometric patterns, most notably diamond and triangular shapes. These designs are inspired by the Native American cultures of the Southwest and include elements unique to each culture. The most popular designs for home designers today are:
El Dorado
The El Dorado design is one of the most famous Southwestern rug designs. This design features a central medallion surrounded by a geometric border with a stunning Paisley pattern accented with floral and geometric details. The El Dorado is typically made from wool and can be found in a wide range of colors and sizes.
Horse Thieves
The Horse Thief design features a diamond-shaped central motif surrounded by smaller geometric shapes of diamonds or triangles arranged in a zig-zag pattern. The colors used in the rug are typically muted, with shades of brown, tan, and gray predominating.
The overall effect is one of simplicity and elegance. The Horse Thief design is often used in contemporary homes to add a taste of the Southwest. It can also be found in many traditional Navajo homes.
Sallisaw
The Sallisaw design features a diamond-shaped pattern. The rug is traditionally made from wool, but jute and cotton are also used. The Sallisaw design is believed to date to the late 19th century and was likely created by Navajo weavers.
The rug gets its name from the city of Sallisaw, Oklahoma, which was once home to a sizable Navajo population. Today, the Sallisaw design is still popular among Southwestern rug collectors and is often used in homes and businesses that want to add native style.
Coweta
The Coweta design originated in the late 19th century when a group of Native American women began making rugs using traditional Navajo weaving techniques. The women used brightly colored wool yarns to create geometric patterns inspired by their tribal heritage.
The design is recognizable for its series of diamonds or triangles arranged in a repeating pattern. The Coweta design is similar to a basket weave and is usually made from wool or cotton fibers. These rugs are typically small and often feature brightly colored patterns.
Common Materials
Southwestern rugs are made from materials that are all native and common to the American Southwest.
Wool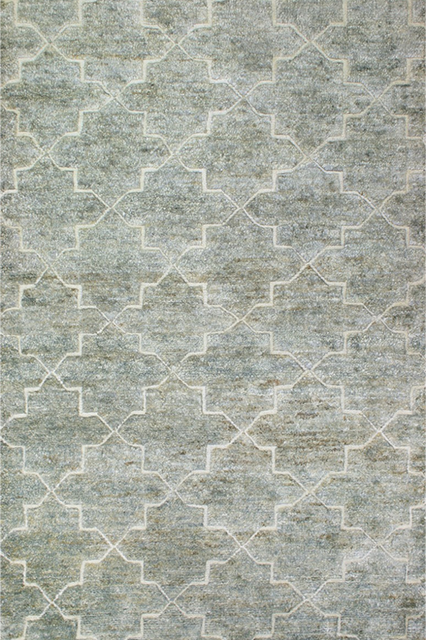 Wool is a popular choice for Southwestern rugs because it is a durable and resilient material that can withstand a lot of wear and tear. Wool is also naturally resistant to dirt and stains, making a woolen rug like the RGJBU500 Buffington Haze Hemp & Wool Area Rug an ideal choice for areas with a lot of foot traffic. They are also easy to clean and can last for many years with proper care.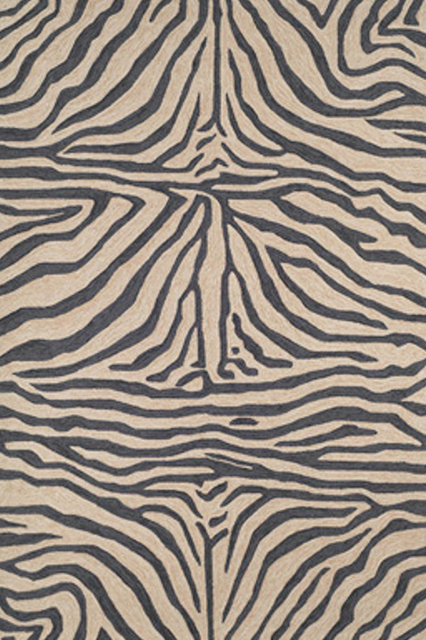 Animal Fur
The most common animals for this purpose include sheep, goats, and llamas. The fur is usually shorn from the animal and dyed in various colors.
Once the dye is applied, the fur is hand-woven into a rug. The resulting product is typically very soft and plush, just like the Trans-Ocean Ravella 2033-48 Zebra Black Area Rug design, making it ideal for a rug. (This indoor-outdoor rug is made from an acrylic and polyester blend). Add a rug pad underneath for an even cozier feel.
Tips for Decorating with a Southwestern Rug
After finding a Southwestern rug style you like, you'll need to place it in your home. But it can be difficult to know how to incorporate your new rug while not overwhelming the space or clashing with existing styles. Here are a few things to keep in mind when decorating with a Southwest rug:
Understand the Styles it Complements
To ensure your new Southwest rug doesn't clash with your existing style, you'll have to understand the styles that complement Southwestern rugs. You may already have a home design style that works with a Southwestern rug, or you may need to adjust your style to avoid a disjointed look. Here are the design styles that complement Southwestern rugs:
Boho
Boho style combines various elements of bohemian, hippie, and gypsy styles. The look features flowing fabrics, natural materials, and earthy colors. Boho style also typically includes vintage and handmade items.
Southwestern area rugs are a perfect match for this style of decorating. They often feature similar colors and patterns, and they add a bit of rustic charm.
Mid-Century Modern
Mid-century modern takes its cues from the forms and functions of mid-20th century architecture and furniture. The style has clean lines that add simplicity and functionality to a room. Mid-century modern pieces contain natural materials like wood and stone, which helps to create a warm and inviting ambiance.
This style works well with SW rugs because the rugs tend to be reasonably simple in design and often feature natural colors. Additionally, the rugs' handwoven construction fits with the mid-century modern aesthetic of handmade pieces.
Navajo Designs
Navajo style has a clean and simple design. It often features straight lines and angular shapes, which can help to create a sense of balance in a room. The simplicity of the Navajo style also makes it a good choice for people who want to add a touch of Southwest flair to their living room without going overboard.
Navajo style generally works well with Southwest rugs because the two types share similar design elements. The colors used in Navajo-style furniture often complement the colors found in Southwest rugs. As a result, the two styles can work together to create a unified look in any room.
Rustic Style
Rustic style is all about embracing natural materials and rough textures. It's a popular choice for those who want to create an inviting and cozy space. The key to achieving rustic style is to mix different elements.
For example, you might pair a rustic wood coffee table with a soft rug. Southwest rugs are the perfect choice for rustic spaces. They add a touch of color and texture and work well with other rustic elements.
Choose the Proper Accessories
You must choose the right accessories to complement your new rug to achieve the perfect look. Adding accessories isn't essential, but it will further tie your new rug to your existing home style, offering a more cohesive look overall. Great accessory ideas include:
Nature-Inspired Wall Art
There are various ways to incorporate nature into your living room decor, but nature-inspired wall art is one of the most popular. The nature themes can include anything from mountain landscapes to desert scenes to images of cacti and other succulents.
Nature-inspired wall decor is a great way to complement Southwest-style rugs. These often feature images of mountain ranges, desert vistas, and other natural scenes, and adding a few pieces of nature-inspired wall art can help create a cohesive look.
Global Patterns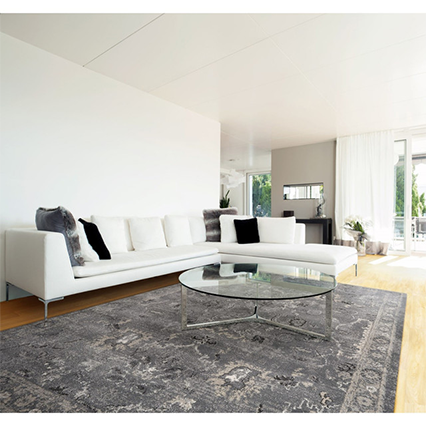 Global patterns are a great way to add an eclectic feel to your space. Since the Southwest is known for its rich cultural heritage, incorporating patterns from different cultures is an excellent way to create a unique and stylish look.
The key is to mix and match different patterned fabrics to create a stylish and unique look. For example, you could pair a Navajo print with a Moroccan tile design. Or, if you want a more subtle look, you could opt for two different patterns in the same color family, like a rustic red area rug matched with a Southwest rug with the same red accents.
Combine Textures
Suede, rattan, woven wood, faux fur, and other textures can complement the Southwest style. Suede, for example, can add a softness and warmth to a living room, while rattan can provide a more natural look. Woven wood can add an element of rusticity, while faux fur can add a feeling of luxury.
The important thing is to choose accessories that complement the overall style of the rug. Southwest-style rugs are made from natural materials, so choosing accessories made from natural materials can help to create a cohesive look. Choosing accessories with different textures can help to add visual interest to a room.
Add Plants and Greenery
Many people choose to accessorize their living rooms with plants and greenery. Indoor plants can be a great way to complement a Southwest-style rug, as the leaves and stems can help accentuate the rug's colors and patterns. However, it is crucial to choose the right plants for the job.
Plants with large leaves, such as ferns or bananas, can help to balance out the bolder colors in a Southwest rug, while smaller plants, like succulents or cacti, can provide a pop of color. When it comes to greenery, consider using palm fronds or yucca leaves. They can help you create a cohesive look in your room.
Call Today
Rug Goddess is an online provider of high-quality rugs. We offer a virtually unlimited selection of options, including color, shape, size, and brands. If you prefer, we can assist you with any custom-designed rug you may desire.
We offer exceptional prices on any of our rugs, including Persian, Moroccan style, Jute, and any other type of rug you may desire.
Many of our rugs have sample sizes available if you want to try them before you buy. We offer free shipping within the continental United States on orders over $49 for deliveries.
Contact us today and let The Rug Goddess experts help you find and place an order for that perfect rug to compliment your home or office decor.