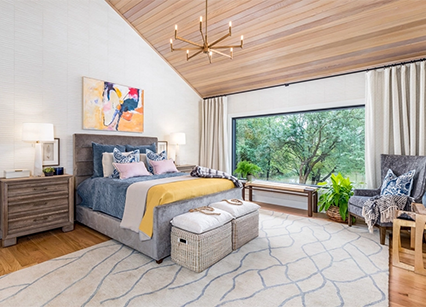 Moroccan rugs have long been prized for their beauty and craftsmanship and are among the most popular rugs in the world. Handwoven from wool and cotton, these unique rugs are often decorated with intricate geometric patterns and dyed in vibrant colors.
Whether you're looking for a vibrant focal point or a subtle accent, a Moroccan rug can add personality and style to any space.
What is a Moroccan Rug?
Rugs have been an integral part of Moroccan culture for centuries. Although the exact history is unclear, it is believed that rug-making began in Morocco in the 16th century. Rugs were made initially by nomadic tribes, who used them for both functional and decorative purposes. The most coveted Moroccan rugs are those made by the Berber people, a nomadic group who has inhabited the country for centuries.
As rug making became more widespread, it began to take on a more artisanal quality. Today, Moroccan rugs are still sought after by collectors and interior designers worldwide. While their designs have evolved, they still retain the originality and artistry that have made them so beloved for centuries.
Moroccan rugs are typically made from wool dyed using natural dyes. This gives the rugs distinctive colors, ranging from vibrant hues to more subdued shades. Moroccan rugs are also known for their durability, as they can withstand heavy use. These rugs are often reversible to be used on both sides.
What are the Qualities of a Moroccan Rug?
Moroccan rugs are prized for their unique design and craftsmanship. Here are a few qualities that make them so remarkable:
Material
The most common material for Moroccan-style rugs is wool, which is sturdy and durable. Wool is a natural fiber that's easy to clean and maintain. Some Moroccan rugs are made with cotton or synthetic materials. These rugs are less expensive than those made with wool, but they may not be durable.
Thickness
A big part of what makes Moroccan rugs so unique is their thickness. Moroccan rugs are typically between eight and ten knots per square inch or KPSI. This is much higher than the average rug, which typically has about four KPSI.
Moroccan rugs also often have a high pile height of 1-2 inches. This combination of high KPSI and thick pile makes Moroccan rugs some of the most luxurious and durable rugs on the market.
Size
Moroccan rugs come in various sizes, from small accent rug pads to large area rugs. The average length of a Moroccan rug is between five and ten feet long, the most common size being eight feet by ten feet. Moroccan rugs can be used in any room, from the living room to the bedroom to the kitchen and dining areas.
In general, larger rugs are better suited for living rooms and bedrooms, while smaller rugs fit better in kitchens and bathrooms. When choosing a Moroccan rug for your home, you need to measure your space to ensure you buy the right size rug for the correct look and feel.
For living rooms and bedrooms, measure the length and width of the room from wall to wall. Subtract 18- to 24-inches to create a border around the rug. This allows enough space to walk around the room without tripping over the rug and being large enough to fit the proportions of the room and your furniture.
For dining rooms, you want to ensure the rug fits comfortably under the table and all the chairs when pulled out from under the table. For rectangular tables that accommodate two to four people, a 5' x 8' rug would work. A 9' x 12' rug may be necessary for larger tables that fit six to eight people.
For kitchens and bathrooms, small doormat-sized rugs or long narrow runners brighten up the room while still fitting the small areas between cabinets.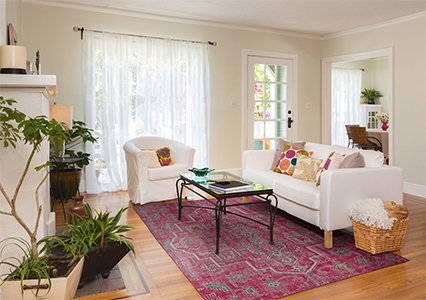 Colors and Patterns
Moroccan rugs are renowned for their colors and patterns. The colors are often bold and eye-catching, while the patterns are intricate and detailed. They are often inspired by nature or reflect the culture and traditions of Morocco. Moroccan rug makers also use a variety of traditional motifs, such as stars, diamonds, and flowers, in their patterns.
What Makes a Moroccan Rug Popular?
Beyond their historical importance, Moroccan rugs have many practical reasons for being in demand.
Warm and Cozy
Moroccan rugs are often made of wool, known for being warm and cozy. Wool can trap heat, helping to keep your home warm in the winter. Your feet will no longer be cold on icy mornings in the kitchen or on cool nights watching movies in the living room.
Soft and Comfortable
Moroccan rugs are soft and comfortable. Wool is a natural fiber that is gentle on the skin. These rugs often have a thick pile, which makes them more comfortable to walk on.
Durable
Moroccan rugs are also durable. Wool is a strong material that can withstand a lot of wear and tear. Moroccan rugs also often have a tight weave, which makes them less likely to unravel.
Classic Design
Moroccan rugs have a classic design that never goes out of style. Morocco's culture and traditions often inspire Moroccan rugs' patterns and colors. As a result, they are a popular choice for people who want a rug with a timeless design.
Easily Incorporated
Moroccan rugs can be easily incorporated into any room. They come in various sizes so that they can be used in any room of the house or even used as window treatments and wall art. They also come in various colors and patterns and can match any decor.
Available in all Price Points
Moroccan rugs are available at all price points, making them an excellent choice for any budget. Whether you're looking for a luxurious statement piece or a simple and affordable way to add some flair to your space, they are a great option.
Taking Care of Your Moroccan Rug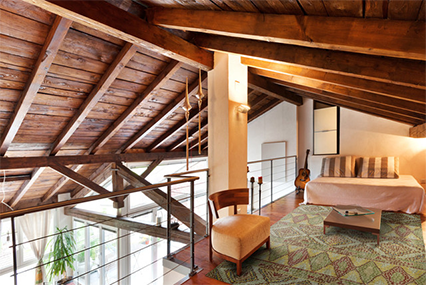 Moroccan rugs are beautiful and unique, but they require special care to keep them looking their best. Here are some tips for taking care of your Moroccan rug:
Regular vacuuming is essential to remove dirt and dust.
To remove odors, sprinkle baking soda on the rug and let it sit for a few hours before vacuuming.
If you spill something on the rug, blot the area with a clean, dry cloth. Do not rub or scrub, as this could damage the fibers.
For more stubborn stains, mix a solution of equal parts water and vinegar, and apply it to the stain with a clean cloth. Let it sit for a few minutes before blotting it with another clean cloth.
Moroccan rugs should also be professionally cleaned every few years to ensure they continue to look their best.
Call Today
Rug Goddess is an online provider of high-quality rugs. We offer a virtually unlimited selection of options, including color, shape, size, and brands. If you prefer, we can assist you with any custom-designed rug you may desire.
We offer exceptional prices on any of our rugs, including Persian, Moroccan style, Jute, and any other type of rug you may desire.
Many of our rugs have sample sizes available if you want to try them before you buy.
We offer free shipping within the continental United States on orders over $49 for deliveries.
Contact us today and let The Rug Goddess experts help you find and place an order for that perfect rug to complement your home or office decor.