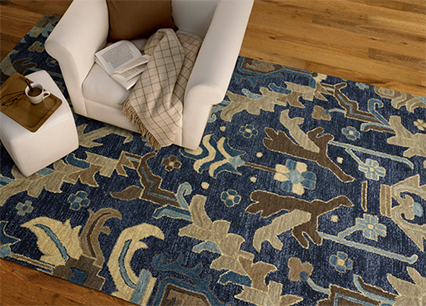 Southwestern area rugs are created with patterns and color schemes that are inspired by the Native American cultures of the southwestern United States. Bold geometric patterns and vibrant colors characterize these area rugs.
They typically feature a central medallion surrounded by repeating elements, such as diamonds, arrows, or zigzags. These rugs often have a tribal look and feel, making them popular for rooms with a rustic or bohemian vibe. If you're searching for a truly unique rug that will make a statement in your home, you should consider a southwestern area rug.
Besides adding visual interest to your decor, southwestern rugs can also help create a warm and inviting atmosphere in your home. Whether you're looking for a subtle accent or a statement piece, a southwestern rug adds character and charm to any room in your home.
What Materials Are Used to Create Southwestern Rugs?
When shopping for a southwestern rug, paying attention to the material is essential. Wool rugs are typically the most expensive but are also the most durable. If you have pets or children, wool is a good choice because it can withstand heavy traffic and is resistant to stains, but there may be better options for an outdoor rug.
Cotton rugs, on the other hand, are less expensive than wool, but they're not as durable. Polyester and nylon rugs are the most affordable option, but they're not as durable or comfortable underfoot as wool or cotton but are common to use outside for their quick drying time.
When choosing a rug, think about your budget as well as the overall feel you want from your rug and where it will be placed. It might be worth spending a little more to get a rug that lasts.
What are Some Common Motifs Found in Southwestern Rugs?
Areas in the southwest United States have a rich cultural history. This is reflected in the various motifs commonly found in southwestern rugs. Some popular motifs include:
Coweta
These rugs are named after the Coweta tribe, located in Oklahoma. Coweta rugs typically feature a central medallion surrounded by repeating elements, such as diamonds, arrows, or zigzags.
Each motif has a different meaning and is often used to tell stories or convey messages. For example, the Butterfly motif represents new life and transformation. The Eagle motif symbolizes strength and courage. The Wolf motif signifies family and unity.
Sallisaw
The Sallisaw motifs are design elements commonly used by the Cherokee people in the 19th century. These motifs include geometric shapes, animals, and plants, and they often have specific meanings attached to them.
For example, the diamond shape represents the four seasons, while the eagle symbolizes strength and courage.
Horse Thieves
Southwestern rugs often feature the Horse Thieves motif, which is a symbol of good luck. The motif is believed to originate from the Navajo tribe, who used it to decorate the saddles of their horses.
The Horse Thieves motif is thought to represent the strength and speed of the horse, as well as the agility and cunning of the thief.
El Dorado
The El Dorado motif is a symbol of wealth and prosperity. It is often used in southwestern rugs to represent the mythical city of gold. While the city of El Dorado has never been found, the idea of it has captivated imaginations for centuries.
Benefits of Adding Southwestern Rugs to Your Decor
Southwestern rugs can add a touch of elegance and sophistication to any room in your home. They are also a great way to add color and pattern to add a unique and vibrant addition to a minimalist aesthetic. Some benefits of adding southwestern rugs to your home include:
Low to Mid-Pile Allows for Easy Maintenance
Southwestern rugs typically have a low to mid-pile, which makes them easy to maintain. Vacuuming and spot-cleaning are typically all that is needed to keep these rugs looking their best.
If you're looking for a low-maintenance rug option, then a low-pile option like the Kas Carmen 7611 Ivory Tulum Area Rug, which has a ½ inch pile height, is a good choice.
Insulates Your Floors
Another benefit of southwestern rugs is that they help insulate your floors and create a warm and cozy feel. This is especially beneficial in rooms that have hardwood or tile floors, as they can help to keep the room warm in the winter and cool in the summer.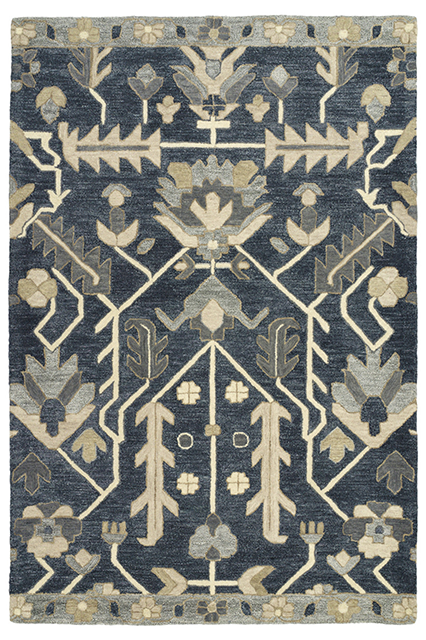 If you're looking for a way to save on energy costs, then the Kaleen Brooklyn 5307-10 Denim Blue Southwest Area Rug, which is hand woven of 100% virgin wool pile, is a good option.
Huge Range of Colors
Southwestern rugs come in a wide range of colors, from traditional teal, maroon and brown to yellow, blue, and gold of more modern versions. You can easily find a rug to match your existing color scheme or add a pop of color to a neutral room.
You can choose a bold and vibrant rug like the bright orange Kaleen Relic RLC04-89 Orange Navaho Style Area Rug or a more subdued and classic option like the Kaleen Brooklyn 5310-107 Ivory Mushroom Area Rug.
Choose one with flamboyance, like the Jaipur Coredora CRD02 Nemi Runner Rug, for a runner rug in the hallway or kitchen. Whatever your style, you'll be able to find a southwestern rug that meets your needs.

Designs Add Visual Interest to the Space
Southwestern rugs can add visual interest to any space with their eye-catching designs. From simple and classic designs like a chevron pattern to more intricate and detailed options with various traditional motifs, there is a southwestern rug that will suit every taste and perfectly complement your existing style.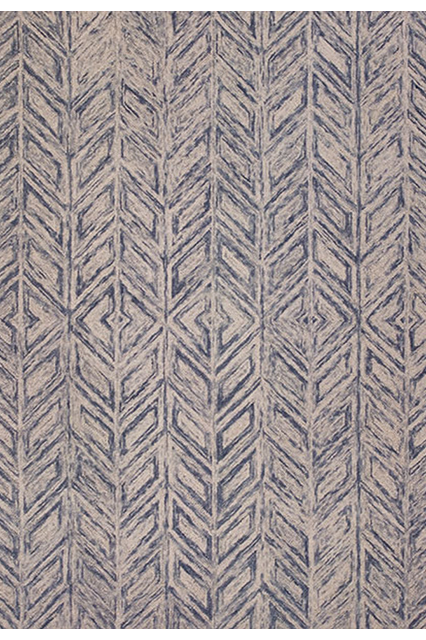 The Kas Gramercy 1611 Blue Heather Herringbone Area Rug is made from high-quality materials and features a unique herringbone pattern in shades of blue and grey. The minimalist design is perfect for Scandi-style decors. The subtlety of the colors means it complements a range of different color schemes.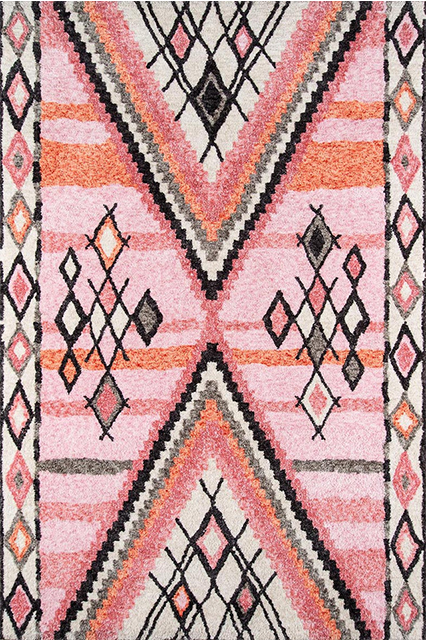 The Kaleen Brooklyn 5309-107 Mushroom Southwest Area Rug, with its stunning stylized floral motifs, makes for the traditional decor while the Momeni Margaux MGX-02 Pink Area Rug is perfect for a boho space with its bright colors and layered, eclectic design.
How to Accessorize Southwestern Rugs?
Many people are drawn to the beauty and intricate patterns of southwest rugs but are unsure how to incorporate these pieces into their living room, bedroom, or other areas of the house. Choosing simple accessories can help complement your southwest rugs and add style to your room.
Add Greenery
One way to accessorize a southwest rug is by adding greenery. This can be done by placing potted plants around the perimeter of the rug or by hanging a planter from the ceiling above the rug. Not only does this add a touch of color and life to the room, but it also helps to offset the bold patterns and colors of the rug.
As a result, the space feels more cohesive and inviting. When choosing plants, select varieties that require low light and water levels, as southwest rugs are typically placed in sunny rooms.
Use Earth Tone Textiles
This can be done by adding throw pillows and blankets in complementary colors. Earth tones are natural, neutral colors found in the landscape. They include shades of brown, green, and gray.
Earth tones create a warm and homey ambiance when used in home decor. They can also help to ground a space and make it feel more peaceful.
Invest in Nature-Inspired Wall Art
Another way to accessorize southwest rugs is by investing in nature-inspired wall decor. This could include paintings or photographs of landscapes, mountains, or deserts.
For an even more authentic look, you could also consider hanging some Navajo tapestries or placing Pueblo Indian pottery around the room. With a little creativity, you can easily turn your home into a veritable desert oasis.
Add Natural Textured Accents
Southwest rugs are known for their natural materials and textures. To accentuate these features, you can add other natural textured accents to the space. This could include a rattan ottoman or sheepskin throw rug.
There are many other natural materials too that can be used to accentuate the textures in a southwest rug. These include wool, macrame, faux fur, and cowhide. Each of these materials has its own unique texture that can add depth and interest to any space.
Call Today
Rug Goddess is an online provider of high-quality rugs. We offer a virtually unlimited selection of options, including color, shape, size, and brands. If you prefer, we can assist you with any custom-designed rug you may desire.
We offer exceptional prices on any of our rugs, including Persian, Moroccan style, Jute, and any other type of rug you may desire.
Many of our rugs have sample sizes available if you want to try them before you buy. We offer free shipping within the continental United States on orders over $49 for deliveries.
Contact us today and let The Rug Goddess experts help you find and place an order for that perfect rug to complement your home or office decor.